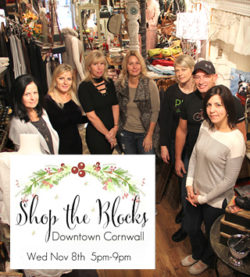 Shop the Blocks Celebrates Downtown Shopping
November 2, 2017
Cornwall Ontario – Downtown is the place to be Wednesday night as dozens of merchants will be joining forces to showcase their newest collections and introduce shoppers to current trends.
"Come and check out some of the best in food, art, healthy lifestyle options & more," says Chris Munro of Life's Little Pleasures. "There is always a little bit of magic in walking downtown on a lovely November night."
Shoppers will be able to take advantage of a variety of specials, including:
discounts
giveaways
prize draws
product demonstations
and more!
The Shop the Blocks event takes place Wednesday November 8, from 5pm to 9pm.
"There is something different in each store," says Ms. Munro. "We have new merchants joining us for the very first time. Artists will be displaying their wares and downtown restaurants are offering special menus."
Participating businesses include:
Life's Little Pleasures
Squire Shop
Laser Advanced Spa
Love Love Food
Schulmans
Kids Korner
Campbell's Creations
Bicycle World
Dreamland
Kings & Little Ones
Centre Holidays
Pommier Jewellers
Healing Wishes
Pure Esthetics
Echo Trends
Free Parking
The City of Cornwall is waiving parking fees at all municipal lots in the Downtown Business Improvement Area for the Shop the Blocks event. Typically fees are in effect at metered spaces until 6 pm on weekdays, but will end at 5pm on Nov. 8.
Restaurant Week
A number of downtown restaurants are offering specially designed menus as part of Restaurant Week.
"Come early, shop and then enjoy a nice dinner out!"
More info on the Shop the Blocks event can be found on Facebook:
https://www.facebook.com/events/144293722852180
Categorised in: Business