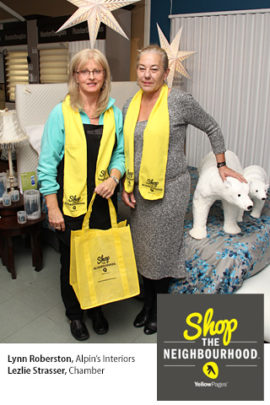 Shop the Neighbourhood on Saturday November 28
November 20, 2015
Cornwall Ontario – Local business leaders are encouraging people to get out and shop in their own neighbourhoods this Saturday November 28 for the Shop The Neighbourhood event.
"Small business is the lifeblood of our community," says Lezlie Strasser, Executive Manager of the Cornwall Chamber of Commerce. "These business owners support dozens of local charities, sport teams and community events all year long."
"Saturday is an opportunity to say thank you and at the same time get great deals."
Many local businesses are taking part and will be offering discounts, giveaways and other promotions to celebrate the day.
"We have specials on throughout the store," says Lynn Robertson of Alpine Interiors. "In addition to our regular selection, we also have all of our Christmas merchandise in, so if you are planning your home decorations, now is a perfect time to drop in."
Here are list of merchants and restaurants participating in Shop the Neighbourhood, although the list is likely to grow over the next few days.
Alpin's Interiors
Accessoware
Cottage Blue
Gordon Jewellers
Pommier Jewellers
Kids Korner
Truffles
Schnitzels
Jas-Mar Paint & Decor
Life's Little Pleasures
Perkins Home Centre – RONA
The Vertical Factory
Laura's
Benson Auto Parts
Vieux Duluth
Mindful Cookery
Rendezvous
Play it Again Sports
Pro Oil Change
Spinners Diner
Roys Florist
Fairy Sweet Chocolate
Maritime Travel
The Sub Place
T.A.R. Electric
The Vape Exchange
Warner Insurance
Choice Taxis
Schulman's
Dreamland
PURE Esthetics
Oasis Hair and Day Spa
Cornwall Transit
"There are a lot of positive things happening in the Le Village these days," says Dr. Michel Dubuc, Chair of the Le Village BIA. "We have recently welcomed a new bakery on Montreal road, a new pharmacy at the Cotton Mill, and Ruby Restaurant has just re-opened."
Cornwall Transit will also be offering free bus rides on Saturday November 28 to any passenger displaying a receipt from a local store dated earlier the same day.
"Taking the bus is a great way to shop," says Len Tapp, Manager of Cornwall Transit. "We're happy to help people get back home with their purchases."
Local merchants have already launched specials and are planning complementary events to keep people thinking local during the holiday season. Many of the retailers in Downtown Cornwall will be offering specials & discounts on Black Friday November 27 in an event that is sure to merge into Shop the Neighbourhood Saturday.
About Shop the Neighbourhood
Shop The Neighbourhood began as a Yellow Pages initiative to encourage local shopping and support for small businesses and takes place during the busiest shopping season of the year. An estimated 750,000 consumers spent $89 million at local neighbourhood retailers across Canada during the Shop The Neighbourhood event in 2014.