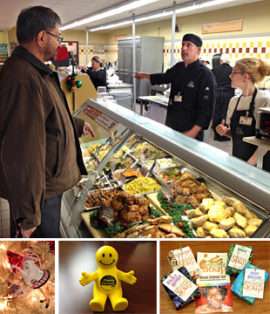 Shopping in Cornwall Makes Sense This Season
November 26, 2013
Cornwall Ontario – Shopping locally is about more than buying goods and services close to home. It's an investment in the local economy that helps to support jobs and produces benefits for the entire community.
That's the message being spread by Cornwall and Area Chamber of Commerce and City officials as the 2013 Christmas season.
"Shopping locally helps to build strong communities by sustaining the many local businesses which employ residents and contribute to the overall quality of life we enjoy," said Mayor Bob Kilger. "We are fortunate to have a great array of local restaurants, retailers and professional services right here in our community."
When purchases are made locally, a greater share of the money stays in the community and gets reinvested in the community through things like wages, taxes, community donations, supplies and various support services from other local businesses.
"Buying local helps to stimulate local economic activity, which is good for the overall health of our community," said Kevin Hargreaves, President of the Cornwall and Area Chamber of Commerce. "When we shop at home, we are supporting our family members, friends and neighbours who work for and manage these businesses."
To help raise awareness and support for shopping locally, the City and the Chamber of Commerce have launched a Facebook page called 'We Shop In Cornwall' where people can learn about the many businesses and unique products available in Cornwall.
Shoppers are also invited to post a self-photo of them shopping in a Cornwall establishment and they can qualify to win a weekly prize of a City of Cornwall jacket or a grand prize of a $200 shopping spree in Cornwall.
The Facebook page can be found at www.facebook.com/WeShopInCornwall.
In addition, a Pinterest page has been established to provide visual highlights of the many great products and services available in Cornwall.