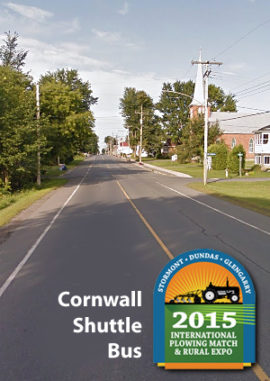 Shuttle Bus Available from Cornwall to Plowing Match
September 17, 2015
Cornwall Ontario – A shuttle bus will be available people looking to attend the International Plowing Match and Rural Expo in Finch next week.
"This is a once in a lifetime event for many people and now they have the opportunity to get out there and enjoy the match, through the service provided by the City of Cornwall," said Jim Brownell, Chairman of IPM 2015. "This is great news!"
Daily Service
The bus is scheduled to leave the Cornwall Civic Complex each morning at 9:30 am and will drop passengers off at the main gate of the tented city. Passengers will board the bus for the return trip to Cornwall at 4:30pm the same day.
A maximum of 48 seats are available each day, from Tuesday to Saturday.
Securing a Seat on the Bus
People will need a ticket to board the shuttle bus. Tickets will be available on a first-come first-served basis.  There is no cost for the tickets, which will be available at the Cornwall Economic Development office at the Civic Complex  starting Friday morning at 10am.
Passengers will be responsible for themselves while attending the Plowing Match, and responsible for ensuring that they board the bus for the return trip.
A Bus for Visitors
A separate bus will also be taking visitors staying at area hotels to the Plowing Match each day. Residents of the IPM RV Park will also have an opportunity to hop on this bus and spend the day shopping and dining in Cornwall.
About the International Plowing Match & Rural Expo
The International Plowing Match and Rural Expo is a premier five-day event promoting agricultural and rural lifestyles. Each year, over the five days, more than 75,000 people attend to view education and commercial exhibits, and at the same time enjoy live music and local food vendors.
The 2015 IPM will be held in Finch from September 22-26, from 8:30am – 5:00pm daily.
More info can be found online:
Related Articles