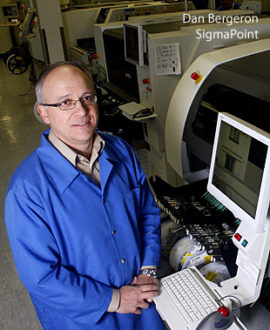 Sigmapoint Technologies Lands Major Federal Project
October 31, 2014
Cornwall Ontario – Sigmapoint Technologies has been awarded an important subcontract for the federal government.
The Cornwall manufacturer has been subcontracted to manufacture the circuit boards for a project that involves upgrades to Canadian military hardware. Recently, the Federal Government announced the award of a $137.8-million contract to General Dynamics Canada of Ottawa for upgrades to the Canadian Armed Forces' combat net radios and vehicle interface units.
"Our Lean Manufacturing capabilities have given Sigmapoint the competitive advantage to win this contract with General Dynamics Canada," says Dan Bergeron, President & CEO of Sigmapoint. "Our collaborative culture will ensure success and allow both companies to capture more market share along with having a strong competitive advantage."
The project is a boost to the growing electronics manufacturer, which has steadily re-invested in
new technoglogy at its facilities in the Cornwall Business Park.
"This is definitely good economic news for Cornwall and Eastern Ontario," says Guy Lauzon, Member of Parliament, Stormont-Dundas-South Glengarry. "It is great to see local jobs supported through federal government contracting right here in our community."
Combat net radios are used in all armoured vehicles and personnel carriers for transmitting and receiving tactical voice and data communications on all army operations and training missions. Vehicle interface units are amplifiers that boost the signal from the radio, thereby increasing their communication range.
Quick Facts
The contract is for the upgrade of 11,060 combat net radios and 6,800 vehicle interface units, over a three-year period ending in March 2017.
The product design and development will be done in Calgary, while upgraded radios will be produced in Ottawa. Some subcontracted work will be completed in Cornwall.
The upgrades will include the replacement of cryptographic and data transmission modules in each radio, as well as modifications to the vehicle interface unit. This work will allow the radio to function securely at today's needed data capacity. The data processing module within the combat net radio, initially purchased in 1991, lacks sufficient capacity to exchange the volume of data required today and in the future.
The combat net radio and the vehicle interface unit are components of a highly integrated tactical system that supports army‑wide command and control. It forms a part of every platform-based army weapon system and is made up of numerous hardware, firmware and software elements.
The Government of Canada is committed to creating jobs and economic growth, and to leveraging the economic benefits of contracts like this one through the Industrial and Regional Benefits Policy. This policy ensures that companies awarded defence and security contracts conduct high quality and advanced technology business activities in Canada, equal to contract value.
This contract is another example of the Government of Canada's commitment to the Canadian Armed Forces, while supporting Canadian manufacturing, skills and ingenuity and jobs.
About SigmaPoint
SigmaPoint Technologies is an Electronic Manufacturing Services (EMS) partner supplying end-to-end assembly services for intricate electronic products within the computer, telecommunications, defence, alternative energy, medical, industrial, and transportation markets.