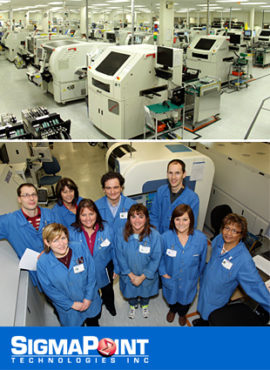 Sigmapoint Technologies Looks To Add Positions
November 7, 2014
Cornwall Ontario – SigmaPoint is growing again.
The award-winning electronics manufacturer is looking to fill about 15 positions at its manufacturing facility in Cornwall.
"Business has been steadily increasing with customers ramping up their orders," says Paula Fontaine, Director of Human Resources for SigmaPoint.  "We are looking to hire approximately 10 more people to work as SMT Operators and Mechanical Assemblers as well as several additional skilled positions."
SigmaPoint maintains on-going training and certification programs for its employees. The company considers education to be part of continuous improvement and has made it an integral part of its operating philosophy.
Current available positions include:
Component Engineer
Controller
Hand Solderers
Quality Analyst/Engineering
SMT Operators
Strategic Account Manager
Supply Chain Manager, Procurement
Links to the above positions, and future job openings at SigmaPoint, can be found on the Work in Cornwall section of this website.
SigmaPoint was recently awarded a major contract to work on the upgrade of over 11,000 combat net radios and 6,800 vehicle interface units for the Canadian Armed Forces.
While the need for workers is not directly related to that contract, SigmaPoint has been steadily growing as it establishes itself as an electronic manufacturer of choice in North America. The company has expanded the footprint of its manufacturing facility in Cornwall and has continually invested in new equipment and technology.
Another major accomplishment for SigmaPoint and its employees has been the adoption of lean manufacturing practices.
The company was recently featured in Continuous Improvement and Productivity, a Province of Ontario publication which explored how the entire SigmaPoint team has embraced continuous improvement to cement the company's position as a leading on-time producer of complex circuit boards for the telecommunication, medical and defense industries.
"Everyone says they're lean, but there are a lot of different measures of lean," says Dan. Bergeron, CEO of SigmaPoint. "For us it's all about creating a higher quality product with a reduced lead time so that our customers can capture market share more quickly."
About SigmaPoint
SigmaPoint Technologies is an Electronic Manufacturing Services (EMS) partner supplying end-to-end assembly services for intricate electronic products within the computer, telecommunications, defence, alternative energy, medical, industrial, and transportation markets.