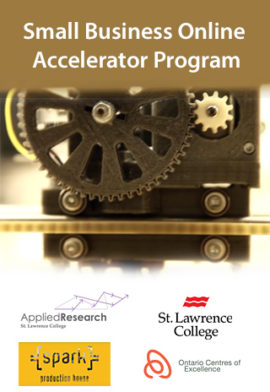 SLC Launches Second Year of Accelerator Program
June 14, 2016
Cornwall Ontario – St. Lawrence College will be helping 15 Eastern Ontario companies develop and improve their online presence, thanks to funding from the Ontario Centres of Excellence.
"This is a unique and exceptionally economical opportunity to work with the creative student minds at St. Lawrence College to further the competitiveness of local companies," says Ian Dick, Industry Liaison with the Applied Research Department at St. Lawrence College.
This is the second year of the Small Business Online Accelerator Program. Last year 15 companies from a variety of Eastern Ontario communities were able to leverage $250 cash plus $2250 in project participation to secure $2500 in OCE funding to help enhance their online sales and presence.
Companies accepted into the accelerator program work with Spark, a marketing communications agency run by St. Lawrence College students. The Spark Team works with the business to develop and implement unique online solutions. Solutions include, but are not limited to, website development, online sales processing, digital and social media, SEO, and video production.
Applications are now open for the 2016-2017 Small Business Online Accelerator Program. Officials anticipate that the selection process will be competitive, and therefore encourage prospective applicants to submit applications as soon as possible.
For more information about this program  and to submit an application, please visit:   http://signup.sparkslc.ca/
"The quality and type of projects our group produced in last year were quite impressive," says Mr. Dick. "Our team is excited at reviewing the applications and getting back to work on creating some exciting solutions to the online challenges small businesses face every day."
About Spark
Spark is a Creative Marketing Communications Agency based out of St. Lawrence College, specializing in impactful creative, videos and design. The Spark team is made up of 8 students with graphic design, advertising and marketing communications skills, managed by College faculty.
Ontario Centres of Excellence
Ontario Centres of Excellence drives the commercialization of cutting-edge research across strategic market sectors to build the economy of tomorrow and secure Ontario's and Canada's global competitiveness. Funded by the Government of Ontario, OCE fosters the training and development of the next generation of innovators and entrepreneurs and is a key partner with Ontario's industry, universities, colleges, research hospitals, investors and governments.
About St. Lawrence College
With three friendly campuses in Brockville, Cornwall, and Kingston, St. Lawrence College is an integral part of the economic life and social fabric of Eastern Ontario with a close-knit community of 7,000 full-time students, and more than 82,000 proud alumni.  SLC also has a number of Applied Research projects in progress, and its Corporate Learning and Performance Improvement group has helped more than 350 organizations grow and prosper.
Categorised in: Business