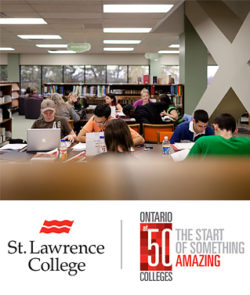 SLC Libraries receive $1.7M Boost from Province
April 7, 2017
Cornwall Ontario – The Campus Library at St. Lawrence College will undergo a transformation thanks to a $1.7 million grant from the Ontario government in honour of the College's 50th anniversary.
New furniture and equipment, smart boards and study pods and upgraded IT systems will help turn the library into state-of-the-art Library Learning Commons.
"The library is the hub of academic life at the college and this transformation will modernize our student learning environments to meet the needs of today's learners," said Glenn Vollebregt, St. Lawrence College President and CEO. "We thank our MPP Sophie Kiwala and the Ministry of Advanced Skills and Education for an investment that will allow us to create a true learning legacy for our students. We couldn't have done this alone."
Library Learning Commons
The new Library Learning Commons will bring together critical learning and academic services in community hubs to support student learning. New types of furnishings, equipment and technology will foster a more creative and collaborative learning environment.
"As St. Lawrence College celebrates 50 years of high-quality education in our community, I am delighted that the Ministry's investment helps them to revitalize the libraries on all three campuses," said Sophie Kiwala, MPP for Kingston and the Islands. "Modernized equipment and resources will enhance learning and ensure that students have the right skills for a knowledge and technology-driven economy."
The transformation of all three campus Library Learning Commons will be completed by summer 2018.
Open House
The Cornwall Campus of St. Lawrence College is open to the public and prospective students at Open House on Saturday, April 8, 2017. The event runs from 9am to Noon.
About St. Lawrence College
Located along the shores of the St. Lawrence River, St. Lawrence has College has three campuses in Brockville, Cornwall and Kingston. The College boasts 6,500 full-time students from Canada, and more than 40 countries worldwide. The SLC college community includes 20,000 part-time students, 1,000 staff, and more than 70,000 alumni. The college has recently invested in the development of Applied Research and the revitalization of its campuses.
You can find out more information on the St. Lawrence College website:
Categorised in: Business