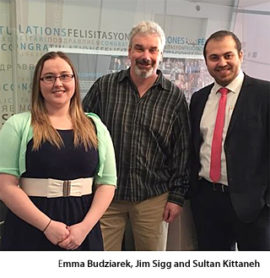 SLC Students Outperform Expectations At Logistics Competition
March 26, 2015
Cornwall Ontario – Students from the inaugural year of the Logistics and Supply Chain Management program at St. Lawrence College's Cornwall Campus demonstrated the strength of this new one-year post-diploma program at a recent business competition.
The Cornwall team placed second at HEC Montreal and seventh overall in Canada at The Supply Chain Management Association's (SCMA) 2015 Student Case Competition on February 28, 2015. The competition gave students an opportunity to showcase their talents to some of the industry's top firms.
Participants included Emma Budziarek, Sultan Kittaneh and Jim Sigg who were coached and mentored by Program Coordinator Carla Kingston.
"I was able to gain a better understanding of the workplace through this competition. I felt confident with the knowledge and guidance I obtained through my studies in the Logistics and Supply Chain Management program" said Emma Budziarek.
During the competition, teams studied a business case and presented their solutions to a panel of judges. Participants focused on resolving real-world strategic and tactical challenges through the examination of topics such as logistics, network design, procurement, relationship management and sustainability.
"The case study gave me an opportunity to deal with actual issues and deadlines that we will face in the real world," said Jim Sigg. "It was very challenging and the competition was well-organized for the most part. As a group we were extremely pleased with our experience and would like to thank Carla Kingston and the rest of the teachers for preparing us for this competition."
Working in teams, the students explored a scenario pertaining to a supply chain problem. The teams then developed recommendations based on their research, data analysis and study of financial implications.
"It was a wonderful experience that helped the three of us face challenges and come together as a team," summed up Sultan Kittaneh. "I would like to thank St. Lawrence College for presenting us with this opportunity. This competition presented me with many challenges and helped me to be more confident for the job challenges in the future."
The Logistics and Supply Chain Management program is offered at St. Lawrence College's Cornwall campus and was created in response to the significant growth of the supply chain sector in the region. Over three semesters, students study all facets of logistics and supply chain management from both a theoretical and practical perspective.
About St. Lawrence College
With three friendly campuses in Brockville, Cornwall, and Kingston, St. Lawrence College is an integral part of the economic life and social fabric of Eastern Ontario with a close-knit community of 7,000 full-time students, and more than 70,000 proud alumni. Hundreds are also enrolled in online and continuing education courses each year. St. Lawrence College has many Applied Research projects in progress, and its Corporate Learning and Performance Improvement group has helped more than 350 organizations grow and prosper.