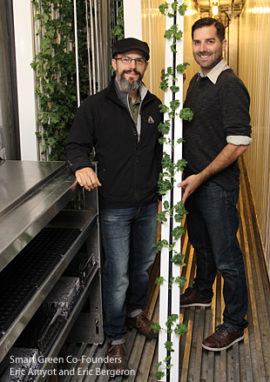 Smart Greens Brings Fresh Produce To Your Table Year Round
September 15, 2014
Cornwall Ontario – When it comes to fresh food sometimes you have to think inside the box.
Two Cornwall entrepreneurs are doing just that by using an upcycled sea container to grow food – right in their neighbourhood.
Eric Bergeron and Eric Amyot have launched Smart Greens, a company that grows fresh greens in a hydroponic farm built within a shipping container. The inaugural farm is located in the heart of downtown Cornwall – within walking distance to several restaurants and grocery stores.
It is the first of its kind in Canada.
"You can taste the difference between produce that has just been harvested and produce that has sat on a truck for two weeks," said Smart Greens co-founder Eric Amyot. "Our produce will be sold the same day the plants are harvested. Added advantages being that we help reduce shipping costs, fuel consumption and are increasing food safety in our region."
The Smart Greens farm can produce over 1200 plants a week. Allison St. Louis, the primary farmer at the location, is currently growing kale, basil and spinach, and plans are to introduce other crop varieties in the future. Local chefs are anxious to get their hands on fresh produce and specialty grocery stores are already placing orders for consumer packages.
Each farm container system is fully automated with an iPad interface to monitor humidity, temperature and nutrient levels. The container is insulated and the growing process is controlled, in that the climate inside the container is ideal for year-round production, regardless of the exterior environment. Mr. Amyot and Mr. Bergeron have plans to grow the network of Smart Green farms across the country.
"We believe there is huge potential for this system in just about every community," said Eric Bergeron. "Large cities such as Ottawa and Vancouver could support dozens of farms while at the same time the model makes a lot of sense for Northern communities where the cost of fresh produce is staggeringly high."
"Imagine having locally grown kale in your salad in Whitehorse in January!"
The first crop of kale from the Cornwall Smart Greens farm is just about ready to harvest.
"Each farm is capable of producing 54,400 pesticide-free plants a year with minimal electricity and water usage." says Mr. Bergeron. "We think bringing sustainable healthy food systems to urban neighbourhoods is very exciting. The technology allows anyone to become a farmer, no matter their background."
More information on Smart Greens can be found online: