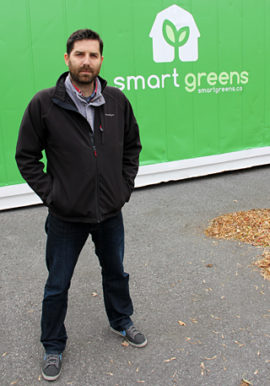 Smart Greens Chosen to Participate in Impact8 Program
October 23, 2015
Cornwall Ontario – One of Cornwall's most innovative young companies is being introduced to some of Ontario's brightest minds at the MaRS Centre for Impact Investing.
Smart Greens has been selected to participate in Impact8, a cohort of companies in Canada looking to make a social impact and looking for investment.
"This is an amazing milestone for our company, " said Eric Bergeron, who along with his partner Eric Amyot, established Smart Greens just one year ago. "Impact8 offers us the opportunity to not only meet friendly investors, but also learn about best practices from some of the best mentors in the Province."
Smart Greens is creating a national brand of locally grown produce through a network of local farmers who grow produce in a technologically advanced, self-contained urban farm.
Impact8 helps to close the gap between growth-stage impact based ventures and investors interested in opportunities to fund business with a social benefit. By providing mentorship and targeted workshops, Impact8 increases the pipeline of fundable business, introduces impact start-ups to the fundraising process, and connects social entrepreneurs to investors, partners and experts in the field of social innovation.
"With an amazing track record of success stories coming out of the program we received over 200 incredible applications for this fourth cohort," said Kevin Taylor, Senior Associate, MaRS Centre for Impact Investing. "Trying to narrow down the list was incredibly challenging and ultimately 7 companies were selected."
You can view a video profiling Smart Greens here.
About Impact8
Impact 8 is program offered at the MaRS Discovery District and fills a gap in the existing support infrastructure for social ventures by focusing on the "missing middle": ventures that are transitioning from early stage to growth stage and that require targeted support to maximize their success and access to the type of capital that meets their blended value propositions.
About MaRS
MaRS is not-for-profit organization that works with an extensive network of partners to help entrepreneurs launch and grow the innovative companies. It is based in Toronto in a 1.5-million-square-foot complex called the MaRS Discovery District, which is one of the world's largest urban innovation hubs. It is a community that encourages entrepreneurial thinking through education programs and events, and helps startups launch, grow and scale. MaRS supports over 1,000 ventures that, in turn, employ over 5,000 people. In the last three years, MaRS ventures have raised $1.3 billion in capital and earned $640 million in revenue.
MaRS is a member of the Ontario Network of Excellence (ONE). The Impact8 program is supported by the Ontario Centres of Excellence's (OCE) Ontario Social Impact Voucher.
About Smart Greens
Eric Bergeron and Eric Amyot launched Smart Greens in 2014 to promote the development of hydroponic farms built within a shipping container. The inaugural farm – the first of its kind in Canada – is located in the heart of downtown Cornwall.
A Smart Greens farm is capable of producing 54,400 pesticide-free plants a year with minimal electricity and water usage. The goal of Smart Greens is to build a network of these farms throughout Canada, with food being sold under the Smart Greens brand.
More information on Smart Greens can be found online: