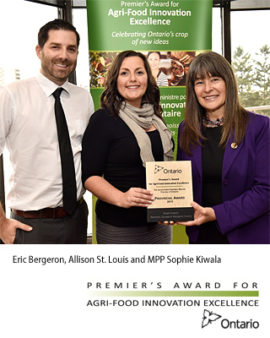 Smart Greens Wins Premier's Award
November 17, 2015
Cornwall Ontario – One of Cornwall's most innovative young companies has been formally recognized by the Province of Ontario.
Smart Greens was won a Premier's Award for Agri-Food Innovation Excellence. The award was presented recently at a ceremony in which three other innovative agri-businesses in Eastern Ontario were also recognized.
This is the first time a Cornwall company has been recognized with a Premier's Award for Agri-Food Innovation Excellence.
"We are very pleased that the Premier is recognizing the value of innovation in agriculture," said Eric Bergeron. "The Earth has finite resources, and as the world's population grows, we need to be smarter in our approach to feeding ourselves."
Smart Greens grows fresh greens in a box – a 320 square-foot box, to be precise. It is a fully-functioning hydroponic farm inside a shipping container, complete with LED lights, a closed-cycle irrigation system and a mobile app that allows for monitoring their crops remotely. Inside the climate-controlled container, Smart Greens can produce more than 3,000 leafy greens, herbs and peppers each week – without the use of pesticides. The technology was developed in the United States and Smart Greens are the first company to be growing in such a system here in Canada.
The Smart Greens container is located in a parking lot in downtown Cornwall. Local restaurants are able to serve basil, lettuce and kale that is literally harvested that morning.
"There is nothing quite like the taste of fresh produce that is grown locally," says Alison St. Louis. "We offer the freshest of solutions – all year round!"
Smart Greens is currently working with MaRS Centre for Social Impact Investing to help raise funds for expansion. The goal is to have 50 Smart Greens locations growing food across Canada in the next few years, creating a national brand of local food producers.
"There are many innovative ways people can grow food now," says Mr. Bergeron. "Smart Greens will always use the latest technologies available in order to reduce food miles, increase food security and increase access to healthy fresh foods."
Smart Greens was recently featured in the Made in Cornwall video series. You can watch the video here:
"Our goal is to give urban Canadians access to fresh, local greens 12 months a year," says Mr. Bergeron. "We especially see a market in large urban centres as well as remote locations, such as Northern communities."
About the Premier's Award for Agri-Food Innovation Excellence
The Premier's Award for Agri-Food Innovation Excellence recognizes the innovative contributions of producers, processors, agri-food organizations and rural communities in Ontario. Their innovations improve existing products, create new jobs and grow Ontario's economy. In 2015, 50 award recipients will be recognized, including the top Premier's Award, Minister's Award, and three Leaders in Innovation award winners. These winners include 3 other companies from Eastern Ontario, including a company based in SDG.
Related Stories