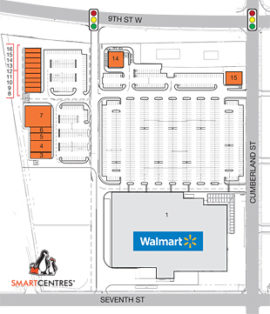 SmartCentres Breaks Ground On Cornwall Retail Plaza
December 3, 2013
Cornwall Ontario – SmartCentres is hard at work on preparing a 22 acre site in Cornwall for a major retail plaza.
The plaza will be anchored by a 195,000 sq.ft. Walmart Supercentre and will offer an additional 25,000 sq.ft. in leasing opportunities.
The shopping centre is situated immediately to the southeast of the busy Ninth and Brookdale intersection. Access to the site will be from Ninth, Seventh and Cumberland streets.
Walmart is a popular shopping destination in Cornwall and will be relocating to the new site once construction is complete. The new Walmart store will be bigger, and will be upgraded to a "supercentre" with an expanded product mix that includes a full supermarket with fresh food.
"This development will bring new retailers to Cornwall and will help to alleviate what many people consider a retail landscape that has gaps in certain sectors," said Mark Boileau, Manager of Cornwall Economic Development.
SmartCentres has begun site preparation work on the site with steel framing likely to begin to be erected in the spring. The site is a former industrial site and qualified for financial assistance under the City'sBrownfield Program.
"The Brownfield Program helps developers revitalize sites that have contamination from previous uses," said Stephen Alexander, General Manager of Planning, Permits and Recreation. "By helping the site owner remediate the property, the community gets a clean site and the City sees increased tax revenues from new development that otherwise would not occur."
Once fully built out, construction work will increase the value of the property to about $40 million from $3.4 million. Annual tax revenues will rise to about $1.6 million. The city currently collects just $50,000 on the property.
The shopping centre has space available for both in-line and pad tenants for a wide range of uses. Opportunities range for 1,500 to 10,000 sq.ft.
SmartCentres is Canada's largest developer and operator of unenclosed shopping centres with more than 250 locations across Canada.
About Smartcentres
In the early 1990's, SmartCentres pioneered a new era in commercial retail in Canada by introducing a value-based concept for unenclosed shopping centres. The company builds 3 million new square feet of retail space annually across Canada in addition to its current base of 47 million sq.ft. SmartCentres has strong partnerships with the world's leading retailers and is the largest supplier of new store space in Canada.
Today, SmartCentres continues to be Canada's fastest-growing and most active developer.