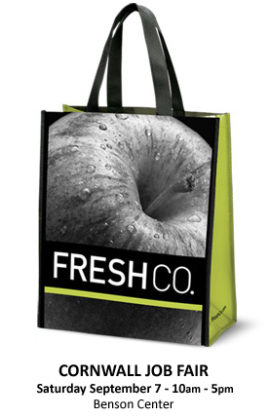 Sobeys Holding FreshCo Job Fair on September 7
August 28, 2013
Cornwall Ontario – Sobeys is holding a job fair in Cornwall on September 7 to help fill dozens of positions at its new FreshCo store in Cornwall.
The job fair will be held at the Benson Centre and is scheduled to run from 10:00 am to 5:00 pm, although the company has indicated that the job fair may end earlier if response is high.
"Cornwall is the place to be," said Sonia Weglowski, Human Resources Generalist for FreshCo. "We are thrilled about the upcoming Job Fair and meeting the community who will play a vital role in ensuring the success and launch of FreshCo in the Cornwall Area."
Job seekers are advised to come early, and to bring their updated resume including references.
The company is recruiting for several positions, including
Grocery Manager
Meat Department Manager
Produce Department Manager
Customer Service Manager
Grocery Cerks
Produce Clerks
Cashiers
You can find links to these job postings in the Work in Cornwall section of this website.
Sobeys is opening a new FreshCo store at the corner of Marlborough and Ninth in the centre of Cornwall. It will be located in a new retail plaza being built by Goldmanco. The store will be 35,750 sq.ft. and is expected to open this fall.
"We know that our customers deserve the very best at FreshCo!" added Ms. Weglowski. "Very soon we will open our doors with a fresh new approach, with a clear mission and vision, the right tools and the right people in place."
About the Benson Centre
The Benson Centre is Cornwall's newest recreation facility, offering 3 NHL sized ice rinks, an indoor field house and indoor tennis court in addition to several meeting rooms.
The Benson Centre is located at 800 Seventh Street West, just off Brookdale Avenue between Seventh and Second Streets.
About Sobeys
Sobeys is a Canadian grocery company with over 1,300 locations in more than 800 communities. With over $16 billion in annual sales, Sobeys offers retail careers under the grocery banners of Sobeys, IGA, Foodland, Thrifty Foods, FreshCo, and Price Chopper.