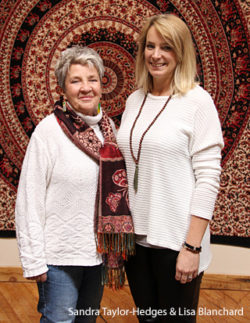 Spirit Tree Yoga Opens New Studio at Cotton Mills
June 20, 2017
Cornwall Ontario – Spirit Tree Yoga has moved into a heritage loft in Cornwall's Cotton Mill District.
The new space offers 30% more room and solves some mobility issues for some of their clients.
"The new space is on the main level, which means that there are no stairs," says Lisa Blanchard. "We just love the organic feel of the entire building."
The larger space also helps a growing clientele. The yoga studio now has 50 monthly members and many more pay-as-you-go clients who attend drop the 20+ classes that are held weekly.  These include Chair Yoga, Mom and Baby Yoga, Vinyasa Flow and Yoga Fit. A popular class is the $5 drop in class, where proceeds go to local charity.
"We are very much community focused," says Ms. Blanchard. "Giving back generates good karma."
Lisa Blanchard has been teaching yoga for 15 years, having learned from top instructors in Texas. Spirit Tree Yoga first opened its doors in 2011, and within a year it moved to second floor space on Pitt Street.  The move to the Cotton Mill District happened in April of this year.
A couple of years ago, Sandra Taylor-Hedges joined Ms. Blanchard as a business partner.
"I started yoga when I was 57. I was not willing to accept old age," says Ms. Taylor-Hedges. "Within 6 months it had totally changed my body. I was so impressed, I decided to become a yoga instructor to help people my age stay fit."
Spirit Tree Yoga also holds Certified Yoga Teacher training classes, including a summer intensive course offered this year for the first time. Participants be assigned readings and will complete assignments on the theory of yoga and meditation, with hands-on intensive instruction in yoga postures, meditation and breathing techniques, class sequencing and practice teaching taking place over 2 weeks in August.
"We looking forward to welcoming people who have a passion about yoga, and are interested in teaching others," says Blanchard. "We expect some of the participants will be from out of town."
Yoga is a group of physical, mental, and spiritual practices which originated in ancient India. It has been shown to slow down respiratory rates, lower stress and aid in relaxation.
You can contact Spirit Tree Yoga at 613 662-6090, visit the studio at 115-705 Cotton Mill Drive or check them out online:
Spirit Tree Yoga is featured in the 2017 edition of Cornwall Living magazine. Fill out the Request Info form on this website to request a copy of the magazine.
Categorised in: Business