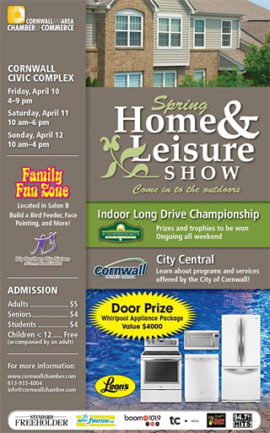 Spring Home and Leisure Show This Weekend
April 9, 2015
Cornwall Ontario –  After another cold and snowy winter, it is time for one of Cornwall's most popular springtime traditions: The Spring Home & Leisure Show.
Over 100 exhibitors have descended on the Cornwall Civic Complex to set up booths in time for the opening of the show tomorrow at 4pm. The show runs all weekend long and wraps up on Sunday April 12th.
"This year promises to be one of our best ever," says Lezlie Strasser, Executive Manager with the Cornwall and Area Chamber of Commerce. "We expect thousands of visitors over the weekend!"
The show features the latest in home, garden and leisure products and services, all offered by area merchants.
All visitors will have a chance to win a $4000 set of Whirlpool applicances, and golfers itching to swing a club can tee it up at the Indoor Long-Drive Contest.
"We had over 100 people try their luck last year," says Rory McLennan of Summerheights Golf Links. "This year they'll be swinging to beat last year's top drive of 312 yards."
City Central
One exhibitor at the show will be the City of Cornwall which is bringing back its popular "City Central" exhibit. City officials from over 12 departments will be on hand to answer questions on a variety of topics such as building permits, recreation programs, garbage and recycling, child care and social housing, Cornwall Transit and much more.
"This is a great opportunity for residents to learn more about the programs and services that the City provides," said Mayor Leslie O'Shaughnessy.
Visitors will have an opportunity to particiapte in giveaways and contests as part of the show. For example, the Parks & Landscaping Division will be giving away seedlings to the first 100 visitors each day of the show.
Family Fun Zone
Children will have an opportunity to build a birdhouse and other crafts at the Family Fun Zone in Salon B.
"Kids are welcome to join us and try their hands at building a bird house, colouring some spring pictures or even have their face painted, said Amanda Brisson, Executive Director of Big Brothers Big Sisters of Cornwall. "There are no costs for the activities – as long as you bring a smile!"
Show Dates and Times
The Spring Home & Leisure Show runs on Friday, April 10th from 4 pm to 9 pm and continues on Saturday, April 11th from 10 am to 6 pm and Sunday, April 12th from 10 am to 4 pm.
Admission to the show is $5 for adults and $4 for seniors and students. Admission is free for children under 12 who are accompanied by an adult.
About the Cornwall and Area Chamber of Commerce
The Cornwall and Area Chamber of Commerce is the unified voice of the region's business community speaking towards growth, leadership and innovation. With direction from the elected board of directors, the Chamber looks to continuously progress the community through political advocacy, knowledge-based development and innovative opportunities.
Later this month, the Chamber will host the 2015 Ontario Chamber Convention. You can learn more here:
The Chamber has close to 700 members.  For more information, please click on the following links: