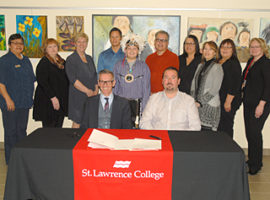 St. Lawrence College and Akwesasne Renew Programming
March 22, 2016
Cornwall Ontario – Leaders from Mohawk Council of Akwesasne and St. Lawrence College have renewed a program delivery agreement between the College and Iohahi:io Akwesasne Adult Education and Training Centre-MCA.
The agreement represents continued collaboration regarding educational programming between St. Lawrence College and the Mohawk Council of Akwesasne, who will work together to meet the unique educational needs of Akwesasne by delivering St. Lawrence College programs at the Iohahi:io Akwesasne Adult Education and Training Centre.
Glenn Vollebregt, President and CEO of St. Lawrence College, and Grand Chief Abram Benedict of the Mohawk Council of Akwesasne signed the agreement at St. Lawrence College's Cornwall campus on Monday, February 23, 2016.
"We are pleased to have renewed our agreement with St. Lawrence College, our relationship between the college and our community is much more than a written agreement, it's a model of modern day cooperation and partnership" said Grand Chief Abram Benedict, Mohawk Council of Akwesasne.
The partnership is a refreshed version of an agreement that has been in place since the 1990s. Iohahi:io currently offers several St. Lawrence College programs including Police Foundations, Business Administration – Human Resources and Computer Networking and Technical Support. Graduating students attend St. Lawrence College convocation ceremonies. Programming delivered at Iohahi:io has varied over the years in response to economic assessments done by Mohawk Council that determine the community needs of Akwesasne. Programs train students to meet these gaps in trades and industry. Part of the new agreement includes an exciting educational pathway designed to benefit Akwesasne students in the future. This articulation opportunity provides Akwesasne students to begin their education by earning an Arts and Science Diploma at Iohahi:io and then continuing their studies in the field of Archaeology at (SUNY) Potsdam, ultimately earning two credentials in four years and becoming career-ready.
"St. Lawrence College and the Mohawk Council of Akwesasne place great importance on ensuring all members of our communities have access to education. The College is committed to meeting the needs of all of the communities we serve and we look forward to a continued partnership with the Mohawk Council of Akwesasne," said Glenn Vollebregt, President and CEO of St. Lawrence College.
About Iohahi:io Akwesasne Adult Education (IAAE)
Iohahi:io functions "to provide the best possible education and training services to the adult members of Akwesasne". Iohahi:io exists to identify training/educational needs of adults in the Akwesasne community; to service the basic literacy, numeracy and upgrading skills needs of the community; to secure funding for the delivery of training and education programs and courses; to staff and instructors; and to pursue accreditation for secondary and post-secondary programs as an institution highly capable of delivering quality degrees, diplomas and certificates.
Iohahi:io also offers high school courses in partnership with the Quebec Ministry of Education to help prepare students for post-secondary, training and other continuing education programs.
Iohahi:io services individuals who are out of school, and communicate in English or Mohawk with special emphasis on individuals receiving social assistance through Ontario Works, and also has support programming for Anglophone and Native learners.
About St. Lawrence College
With three friendly campuses in Brockville, Cornwall, and Kingston, St. Lawrence College is an integral part of the economic life and social fabric of Eastern Ontario with a close-knit community of 7,000 full-time students, and more than 82,000 proud alumni. Hundreds are also enrolled in our online and continuing education courses each year. As part of our ongoing sustainability initiatives, the College boasts more than 1,600 rooftop solar modules on our Kingston and Brockville campuses, the largest solar roof-top installation of any post-secondary institution in Canada. The college has many Applied Research projects in progress, as well, our Corporate Learning and Performance Improvement group has helped more than 350 organizations grow and prosper. Through our Employment Service offices we work with thousands of clients annually.
Categorised in: Business