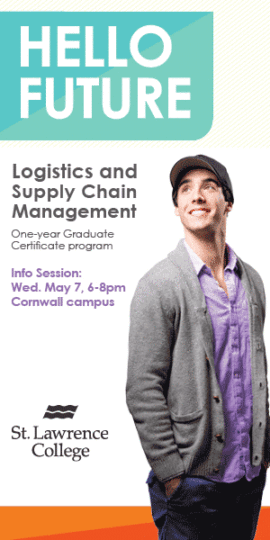 St. Lawrence College Holding Info Session on May 7
April 25, 2014
Cornwall Ontario – Beginning September 2014, St. Lawrence College will offer a new graduate certificate program designed to prepare graduates for careers in the growing supply chain sector.
Individuals who wish to learn more about the Logistics and Supply Chain Management program are invited to attend an Information Session at St. Lawrence College's Cornwall campus on Wednesday, May 7 from 6-8pm in room M2430. No RSVP is required, and parking is free.
The one-year Logistics and Supply Chain Managementprogram will be offered on the College's Cornwall campus. Over three semesters, students will study all facets of logistics and supply chain management from both a theoretical and practical perspective. Students will benefit from hands-on experience and an integrated field placement during the program.
"The supply chain sector in Eastern Ontario is expanding and there is a growing need for knowledgeable and highly skilled individuals in logistics and supply chain management. This new graduate program was developed in direct response to the needs of the communities we support," said Glenn Vollebregt, President and CEO of St. Lawrence College.
Cornwall has recently developed into a "Centre of Excellence" for the distribution of goods and materials across Canada with several companies establishing regional distribution centres in the city.
"The supply chain is one of the most essential sectors of the Canadian economy, involving about 767,000 workers from a range of occupations and industries," said Kevin Maynard of the Canadian Supply Chain Sector Council. "We are excited about the launch of this new program as it will ensure we will have a pool of well-trained employees for positions in our industry in the future."
Graduates will find meaningful employment as materials managers, retail and wholesale buyers, purchasing managers, strategic sourcing analysts and supervisors in materials handling, among other opportunities.
The Logistics and Supply Chain Management graduate certificate program is for those who have a two-year college diploma or a Bachelor's degree. Applications are being accepted into the program for September.
For more information, please visit www.stlawrencecollege.ca/logistics.