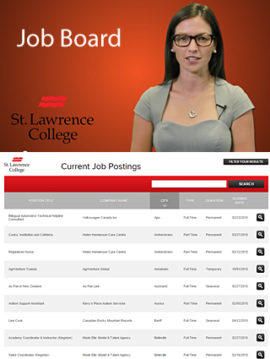 St. Lawrence College Launches New Career Website
February 3, 2015
Cornwall Ontario – Understanding the labour market and learning about employment opportunities just got easier with a new website and job board from St. Lawrence College Career Services.
The website is expected to be a useful tool for both employers and students.
Employers
Cornwall companies of all sizes will be able to post and manage their own employment opportunities on the new Job Board, which is being promoted to College students and alumni. Using a new cloud-based tool called the Job Description Template (JDT), HR managers will be able to customize job description templates as well as access a growing, cloud-based resource for building job descriptions. The website will also allow a company to easily organize their job description library and communicate job expectations. This profile can be used in tandem with pre-assessment tools and job-fit testing to make hiring decisions even easier.
"Setting clear employee expectations through proper job descriptions is a critical first step in reducing expensive turnover for employers," said Charlie Mignault, Director of Business Development at St. Lawrence College. "Research shows that 75 per cent of job applicants won't apply for your job opening if they don't like the job description and that 40 per cent of new hires fail within a year."
St. Lawrence College is committed to developing and supporting 'ready now' employees – people with the right skills and qualifications that an employer needs at the right time."
Job Seekers
The website is designed for all community members looking for work, including students and graduates transitioning from school to employment. Job candidates will benefit from accessing an online resource centre that includes updated labour market information to support their job search preparation, application and outcome.
"St. Lawrence College Career Services will ensure current employment opportunities are accurate and up-to-date, striving to meet the needs of Eastern Ontario," said Glenn Vollebregt, President and CEO of St. Lawrence College. "We want to offer a tool that's not only reliable, but evolving to offer updates and provide users with the most up-to-date information on an ongoing basis."
In addition to job listings, the website also lists local job fairs, as well as a number of resources of interest to the job seeker.
Building Labour Force Intelligence for Eastern Ontario.
The Career Services website is more than just a simple job board.
It utilizes the latest technology that will not only make talent acquisition for employers more efficient and less costly, but will also provide macro information on regional labour market trends.
"The website will profile Eastern Ontario's top 50 in-demand occupations, providing users with access to explore potential career paths, apply online to opportunities of interest and gain an understanding of the training and skills they need to succeed," said Mr. Migneault.
About Career Services at St. Lawrence College
Career Services is dedicated to guiding students and graduates through their career development and providing services leading to greater career success. More information is available online: