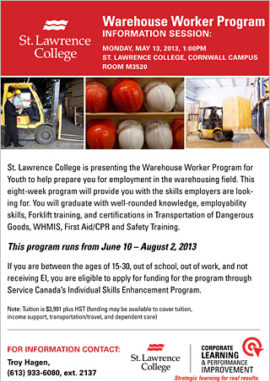 St. Lawrence College Presents Warehouse Worker Program
April 26, 2013
Cornwall Ontario – The Cornwall Campus of St. Lawrence College is once again presenting its Warehouse Worker Program to help prepare young people for employment in the logistics and distribution sector.
The eight-week program is scheduled to start on June 10th, 2013. The College will be holding an information session on Monday May 13th in room M3520 on the Cornwall Campus.
The Warehouse Worker Program is designed to provide students with the skills employers are looking for. Students will graduate with well-rounded knowledge and certifications in Forklift, Transportation of Dangerous Goods, WHMIS, First Aid/CPR and Safety Training. The course comprises about 240 hours of instruction spread out over 8 weeks. Students are typically in class from 8:30 am to 3:30 pm Monday to Friday.
"This program is an excellent opportunity for people who are out of work and out of school," said Glenna Schaillee, Manager of Community Outreach and Corporate Learning for St. Lawrence College. "We have up to 25 seats available on a first come, first served basis."
This is the third time that the College has run the Warehouse Worker program. In addition to this course the college has also previously announced:
Fork Lift training is also available through part time studies on the SLC Cornwall campus, with the most recent program held in March. The course is held once a minimum of 10 people have expressed interest. Contact Diane Godard, part-time studies at 613-937-1509 or 613-933-6080 ext.2709 for more information.
"The Warehouse Worker program provides education in key areas such as employability skills, safety and first-aid," added Ms. Schaillee. "These are all valuable skill sets for people looking to get a job in a distribution centre."
"If you are between the ages of 15-30, out of school, out of work, and not receiving EI, you are eligible to apply for funding for the program through Service Canada's Individual Skills Enhancement Program," said Ms. Schaille. "Depending on an individuals needs, it is not uncommon for the entire tuition to be covered, with additional support also available."
More details will be available at the Information Session on May 13th. Job Zone will be on hand at that session to help people with their applications.
The Warehouse Worker Program is timely with the significant growth of the logistics sector in Cornwall. Eleven Points Logistics is currently hiring for a new 1.4 million sq.ft. distribution centre in the Cornwall Business Park, joining major distribution centres for Shoppers Drug Mart, Walmart and the Benson Organization. Click here for more info on Cornwall's logistics sector.
"Logistics is a career that offers great opportunity for personal growth," said Bob Peters, Senior Development Officer with the City of Cornwall. "If a person can add more skills and qualifications to their resume, they will be more attractive as a candidate when companies are looking to hire."
About St. Lawrence College
Located along the shores of the St. Lawrence River, SLC has three campuses in Brockville, Cornwall and Kingston. St. Lawrence College boasts 6,500 full-time students from Canada, and more than 40 countries worldwide. The SLC college community includes 20,000 part-time students, 1,000 staff, and more than 70,000 alumni. It also serves more than 3,000 Employment Services clients annually. The college has recently invested in the development of Applied Research and the revitalization of its campuses.
87.9 % of the College's recent graduates found work within six months of graduation, according to the latest Key Performance Indicator (KPI) data. St. Lawrence College received straight A's in all other KPIs:
Employer Satisfaction: 92.3%
Graduate Satisfaction: 81.3%
Student Satisfaction: 81.1%
You can find out more information on the St. Lawrence College website: