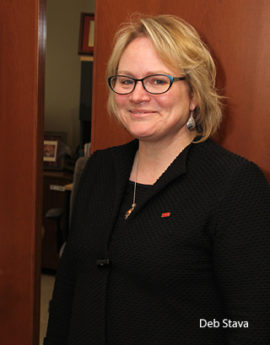 St. Lawrence College Welcomes New Dean to Cornwall
January 12, 2016
Cornwall Ontario – St. Lawrence College has a new dean for its Cornwall Campus.
Debbie Stava took over the reins from outgoing dean Don Fairweather at the start of this semester.
"I am really looking forward to getting to know people on and off-campus," says Ms. Stava, who has recently moved to Cornwall from British Columbia. "Cornwall played a key role in my decision to take this position. I like what I have seen of the city so far, and where the community is heading."
Ms. Stava is an accomplished community college administrator with over 25 years of progressive experience in post-secondary education.  She most recently was Associate Vice President at Northwest Community College in Terrace, British Columbia. She has provided leadership in a mix of academic programs and in an environment that mirrors the offerings of the Cornwall campus.
"We are very pleased to welcome Debbie to the St. Lawrence College family," says Glenn Vollebregt, President of St. Lawrence College.  "She has a very good understanding of collegiate life and how it fits in with the larger community."
Ms. Stava brings a rich history of forging partnerships with community and economic development organizations.  She is a former President for the Prince Rupert & District Chamber of Commerce, and has served with several organizations in that community.  Her education, combining a Master's of Education with Business (Accounting) and Provincial Instructors diplomas, supports her integrated approach to fostering constructive relationships with industry, business, educational partners, community agencies and First Nations groups.  As a committed life-long learner, Ms. Stava has completed professional development supporting all areas of her work, from Human Resource Practices and the Chair Leadership Academy, to Project Management and statistical analytics.
"There is value to education throughout our lives, for personal and professional gain," says Ms. Stava. "St. Lawrence College continues to look at innovative ways to help people discover the knowledge that excites them the most."
Recently, St. Lawrence College has partnered with Carleton University to make it easier for students to transfer between institutions. It also continues to work in close partnership with the St. Lawrence River Institute of Environmental Sciences, and plays an important role in local efforts to bring additional post-secondary educational opportunities to Cornwall.
About St. Lawrence College
With three campuses in Brockville, Cornwall, and Kingston, St. Lawrence College is an integral part of the economic life and social fabric of Eastern Ontario with a close-knit community of 7,000 full-time students, and more than 70,000 alumni. Hundreds are also enrolled in online and continuing education courses each year. SLC college has many Applied Research projects in progress, and its Corporate Learning and Performance Improvement group has helped more than 350 organizations grow and prosper.
The Cornwall Campus is nestled on the banks of the St. Lawrence River, and shares its campus with Aultsville Theatre, the head office of the Canadian Colleges Athletics Association and the St. Lawrence River Institute of Environmental Sciences.
Categorised in: Business