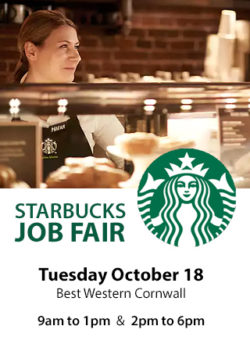 Starbucks Ready to Hire in Cornwall
October 12, 2016
Cornwall Ontario – Starbucks is getting ready to open their first store in Cornwall, and as crews continue to complete construction of the store, the focus now turns to building a team.
Starbucks will be holding a Job Fair at the Best Western on Vincent Massey Drive on Tuesday October 18. Two sessions will he held:
"We are excited to include Cornwall as part of the Starbucks success story in Canada," says Dan White, Store Manager. "We are hoping that people will come out and chat with us about the opportunities that we have available."
A staff complement of 25-30 is expected to be in place when the Cornwall store opens in mid-December.
"Connecting with our customers and the communities we are located in is a big part of the experience of working at Starbucks," says Mr. White. "We believe we can all inspire positive change in the world around us, starting with helping to revitalize the neighborhoods we serve."
The first Starbucks to open in Canada was in Vancouver in 1987 and since then Canadians have been embracing the Starbucks experience in more than 1,200 company-operated and licensed locations across Canada. Starbucks Canada supports the careers of more than 14,000 full and part time partners (employees).
The Cornwall Starbucks store is under construction at the Harden commercial plaza on Brookdale Avenue. It will join existing retailers and restaurants Shoppers Drug Mart, Bulk Barn, the Source, Thai Express and Boston Pizza.
About Starbucks
The Starbucks Coffee Company is committed to ethically sourcing and roasting high-quality arabica coffee. Today, with stores around the globe, the company is the premier roaster and retailer of specialty coffee in the world.
More info can found online at www.starbucks.ca
Categorised in: Business