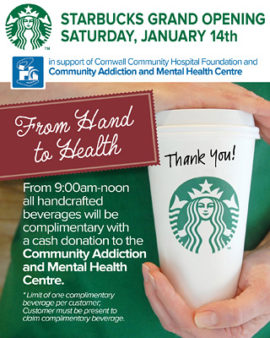 Starbucks Sets Records with Opening of Cornwall Store
January 13, 2016
Cornwall Ontario – Starbucks will celebrate the opening of their first store in Cornwall with an official ribbon cutting Saturday Morning.
Local dignitaries will be on hand, including Mayor Leslie O'Shaughnessy. Live acoustic music will be provided by local Cornwall musician and Starbucks Partner Natalie Desrosiers.
"We could not be happier with the reception we have received in Cornwall," says Dan White, Store Manager. "As a way of showing our appreciation, we will have special give-aways for the first 100 customers to arrive after 9 am."
All handcrafted beverages ordered between 9:00 a.m. and noon on Saturday will be complimentary with a cash donation, with proceeds going to the Cornwall Community Hospital Foundation and the Community Addiction and Mental Health Centre.
"On behalf of City Council, I would like to congratulate Starbucks on the successful opening for their first location in Cornwall," said Mayor Leslie O'Shaughnessy. "Clearly Starbucks coffee is something people here enjoy, and I am sure the store is also attracting customers travelling on Highway 401."
The Cornwall Starbucks shattered the existing opening day sales record for the company in Canada, and despite being open fewer days, the Cornwall store also led the region in sales for its first week.
"We look forward to continuing to serve the needs of the community in the days and weeks ahead," added Mr. White. "We will be extending our product offerings in the next few weeks and invite people to follow our progress on Facebook." The Cornwall Starbucks store is located at 1236 Brookdale Avenue.
About Starbucks
The Starbucks Coffee Company is committed to ethically sourcing and roasting high-quality arabica coffee. Today, with stores around the globe, the company is the premier roaster and retailer of specialty coffee in the world.
More info can found online at www.starbucks.ca
Categorised in: Business