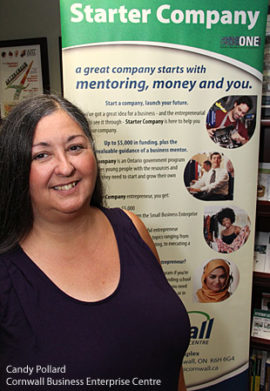 Starter Company Offers Assistance To Young Entrepreneurs
August 21, 2014
Cornwall Ontario – Young Entrepreneurs in the Cornwall region have a new source of assistance to help turn their dreams into reality, thanks to a new progam from the Province of Ontario.
Starter Company provides the successful applicants with unparalleled assistance to start, grow or buy a small business. Assistance includes training, business skills development, mentoring from local business leaders and all-important access to capital. The program is open to Ontario residents between 18 and 29 years of age.
"The Starter Company program will partner young entrepreneurs with experts who will help them develop the skills needed to launch and sustain successful businesses," said Candy Pollard, Business Consultant with the Cornwall Business Enterprise Centre.  "Program participants are also eligible to receive up to a $5,000 grant."
Interested prospective entrepreneurs are invited to contact Ms. Pollard with details of their business idea and learn how to apply to the program. CBEC will then work with approved entrepreneurs to create a learning plan, schedule any necessary training, and ultimately create a business plan. Eligible entrepreneurs include those purchasing an existing business, starting their own, or expanding their already existing business. In order for a business expansion to be eligible for a grant, concrete growth goals must be established – ideally including the hiring of staff.
Depending on the readiness of the applicant, they may remain in the training module for weeks or months. They may be matched with a mentor or receive advice/training from the mentoring group as part of the training process.
Once training is complete, the applicant is eligible for funding of up to $5,000. No funding will be provided to the participants during the training module.
"Starter Company is expected to be very popular," said Candy Pollard, Business Consultant with the Cornwall Business Enterprise Centre.  "Local entrepreneurs looking to take advantage of this program should apply as soon as they have solidified their business vision in order to ensure the best possible chances of being accepted."
Starter Company Quick Facts
Young entrepreneurs in Cornwall, SD&G and Akwesasne, can apply to the Starter Company program by contacting the Cornwall Business Enterprise Centre and completing a program application
To apply, participants must be an Ontario resident, between 18 and 29 years of age and no longer attending school
Successful applicants may receive up to a $5,000 grant to help launch/purchase/expand their business
Starter Company is part of the Ontario Government's Youth Job Strategy
About the Cornwall Business Enterprise Centre
The Cornwall Business Enterprise Centre is operated by Cornwall Economic Development in partnership with the Ministry of Research & Innovation. It provides information and support to entrepreneurs during start‐up and growth stages of business operation, in addition to holding a number of seminars and workshops on timely topics.
The Cornwall Business Enterprise Centre is located at 100 Water Street East (Cornwall Civic Complex) and can be contacted by phone at 613-933-0074 or online at:
Web: www.businessenterprisecentre.ca
Facebook: https://www.facebook.com/CornwallBusiness
Twitter: https://twitter.com/CornwallBiz