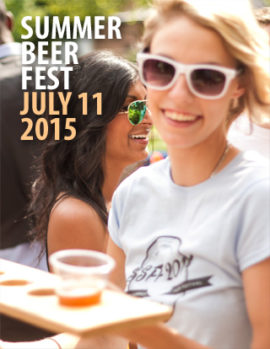 Summer Beer Fest On Tap For July 11
May 7, 2015
Cornwall Ontario – For many, there is nothing more satisfying than a cold beer on a hot summer day.
Beer lovers throughout Eastern Ontario will be happy to hear that the Summer Beer Fest will be held on July 11th, 2015 at the Jet Set Pub at the NAV CENTRE. It is being organized by the same people who have brought the popular Seaway Food Festivals to the city.
"Our belief is that there are growing numbers of Cornwall residents yearning for this type of social and cultural experience," says Sebastien Manigat, Director of the Seaway Food Festival. "This is another unique opportunity for the community to support our amazingly talented chefs and our region's breweries."
Several local eateries will be participating as food vendors during the event, displaying unique menus representative of their establishments. Restaurants that have confirmed to-date include Bar Q, Truffles & Table 21, Schnitzels, Moustache Joe's, and Love Love Food.
"We've witnessed a tremendous response from our customers in the past two editions of the Seaway Food Festival," says Christian Barque, owner of Bar Q. "This is another way for us to promote our community in a fun summer setting. We are very much looking forward to it!"
But of course the Beer Fest is all about the beer.
While organizers are expecting to add more beers in the coming days, the following breweries have already confirmed:
Big Rig
Cassel Brewery
Barley Days
Bicycle Craft
Lake of Bays
La Tuque de Broue
"We are very optimistic of the potential of this festival," says Ian Bentley, Food & Beverage Director at NAV Centre. "My goal since arriving to the NAV Centre last fall has been to increase the overall awareness and selection of craft in the area. The breweries are enthusiastic about the possibilities of Cornwall as a destination for their brand."
The Summer Beer Fest will be held on July 11th from 11am to 7pm and will take place at NAV Centre on the Jet Set Pub patio and surrounding area. Guests will be able to purchase coupons on site that they can exchange for alcoholic or food items. Live entertainment coupled with the "shared-seating" arrangement provided by the picnic tables will create a unique experience for all festival goers.
Tickets cost $10 and will go on sale starting June 1st, 2015 at the participating establishments, NAV Centre, or on-line.
Similar to the Seaway Food Festival, the Summer Beer Fest is privately funded by local hard-working business owners who have come together to deliver this unique summer event. The goal is to showcase and promote all the hard work that is being done by the restaurant professionals in the community.
"We truly have some brilliant chefs and quality independent businesses in Cornwall," says Sebastien Manigat, Director of the Seaway Food Festival. "Our goal is to continuously find innovative ways to celebrate our local culinary scene."
More information can be found online: