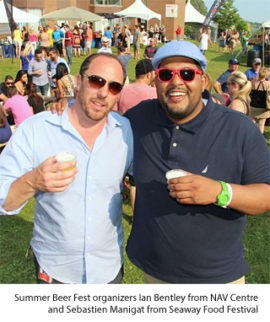 Summer Beerfest Wins Breakthrough Award
February 23, 2016
Cornwall Ontario – The Cornwall Summer Beer  Fest was honoured recently with the 2015 Breakthrough Award from the Cornwall and Area Chamber of Commerce.
The award was handed out at the Business Excellence Awards at the very same venue the Beerfest is held, NAV Centre.
"Obviously, this is an amazing recognition from our peers in the community," said Sebastien Manigat, Director of the Seaway Food Festival. "When we created the Seaway Food Festival and subsequently Summer Beer Fest our goal was to find innovative ways to promote and celebrate our amazing culinary scene and budding craft beer industry. We have always been overwhelmed by the response and support from members of the community."
The Breakthrough Award recognizes an extraordinary local event (or people accomplishing extraordinary things), which benefits the community in unique and meaningful ways.
The Summer Beer Fest is an interactive beer and wine tasting festival which was held for the first time last summer, when over 1250 guests congregated on the NAV Centre grounds to sample the wares of 16 participating breweries and 6 local food vendors.
Mr. Manigat has partnered with Ian Bentley, the Food & Beverage Director for the NAV Centre, to ensure that Beer Fest keeps offering a quality experience for attendees.
"We know we have the potential to make it even bigger," said Mr. Bentley. "All of our stakeholders are extremely eager and we can't wait to start putting all the various elements together. "
"Festival goers had a unique opportunity to indulge in the best our community has to offer," adds Mr. Manigat. "An event of this magnitude does not come together overnight or without a concerted effort.  We look forward to this summer's edition!"
About the Beerfest
The Cornwall Summer Beer Fest will take place July 9, 2016 at the NAV Centre. Tickets go on sale in late May.
Business Excellence Awards & Citizen of the Year
The Chamber of Commerce Business Excellence Awards is a distinguished Cornwall tradition established in 1988. The Awards recognize outstanding achievements by Cornwall area businesses and individuals in the fields of commerce, community work and/or innovation. The awards ceremony, coupled with the presentation of the coveted Citizen of Year award is one of Cornwall's most prestigious annual affairs.
For more info on past winners, follow this link:
Categorised in: Business