Summer Camp Explores Careers in Avation
July 19, 2018
Cornwall Ontario – NAV CANADA's Explore Aviation Summer Camp is giving 30 girls behind-the-scenes access to some unique careers in aviation this week at the NAV CENTRE.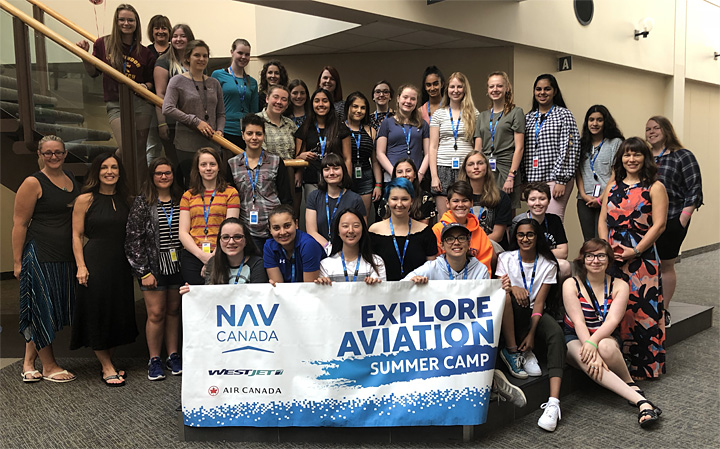 The one week, all-expenses-paid camp by NAV CANADA was offered to girls entering into Grade 10 and the 2018 participants represent all 10 provinces and 2 territories.
Participants at Explore Aviation Summer Camp are mentored by industry experts and will explore exciting career choices in aviation, including professions such as air traffic controller, flight service specialist, electronics technologist, engineer, and more.
The Summer Camp is an initiative led by NAV CANADA to help promote careers in the aviation industry.  The camp is being led by Lyne Wilson, Assistant Vice-President, Talent Management and Kendra Kincade, an Air Traffic Controller for 19 years at the Edmonton ACC, along with two other Air Traffic Controllers, two Flight Service Specialists and one Technologist.
"The objective of the Explore Aviation Summer Camp is to empower and motivate the girls by introducing them to industry professionals and demonstrating how studies in science, technology, engineering and math (STEM) can lead to some amazing career opportunities," says Ms. Kincade.
Science-based careers are predicted to dominate the marketplace, with up to 70 per cent of Canada's top jobs already requiring a STEM education, according to Let's Talk Science, a Canadian charity dedicated to education and outreach to support youth development.
Explore Aviation Summer Camp participants are getting a chance to:
Learn how Canada's air traffic services system works and who makes it work
Engage in practice sessions controlling and advising aircraft in industry-leading simulators
Try out the tools and technology to keep aircraft flying and safe
Tour NAV CANADA's Flight Inspection Aircraft
Interact with guest speakers: Air Traffic Services; Technical Operations; Engineering; Leaders
Take day trips to Ottawa and Montreal: NAV CANADA tower and area control centre tours; city tours​
"The experience they gain at the camp is invaluable," says Ms. Kincade. "They'll use our simulators, visit our radars, fly our drones, and meet the professionals who help keep our skies safe."
Candidates submitted an application form, an essay and a letter of recommendation from a teacher before as part of the selection process by aviation professionals.
About NAV CENTRE
The NAV CENTRE is training and conference venue owned and operated by NAV CANADA. It offers access to 550 guest rooms, 70 state-of-the-art classrooms and meeting rooms, as well as an auditorium. Other amenities include a gymnasium and fitness facilities as well as multiple dining options. The NAV CENTRE is also an accredited member of the International Association of Conference Centres (IACC), provided for adhering to globally-recognized standards in hospitality service.