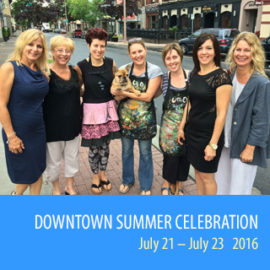 Summer Celebration Returns to Downtown
July 18, 2016
Cornwall, Ontario – Summer is in full swing in Cornwall, and one of the hottest places to be is Downtown Cornwall.
Downtown merchants will be celebrating the season starting this Thursday July 21 through to Saturday July 23. The event is planned to complement Ribfest, which will be underway in Lamoureux Park. Ribfest organizers are expecting over 40,000 people will visit.
Downtown merchants will open later at night, many will put out tables and have other specials in-store on all three days.
"We're so happy to see popular events, like Ribfest, take place in beautiful Lamoureux Park," said Downtown BIA chair Brenda Campbell. "And after they have enjoyed all the park has to offer we encourage ribbers and patrons to visit our many downtown shops and businesses this weekend, where merchants are offering special deals. This is a great opportunity to enjoy all that downtown Cornwall has to offer."
Hockey fans will also have a chance to celebrate at the Cornwall Civic Complex on Thursday, where the unveiling of a new provincial plaque recognizing the Canadian and Cornwall hockey legend, Newsy Lalonde, will be taking place at 11 am. In addition to the ceremony, there will also be an appearance by former professional hockey player Guy Lafleur, tours of the Cornwall Sports Hall of Fame, face painting and much more!
Participating Downtown Summer Celebration businesses so far include:
Life's Little Pleasures
Fantasy Realm
The Squire Shop
Dreamland
Kids Korner
Cottage Blue Home
Schnitzels
Esca
Laser Advanced Spa
Melody Music
Aube Freres
Oasis Hair & Day Spa
Schulmans Men's & Ladies Wear
Alpins Interiors
Echo Trends
Pure Organic Spa
Code Heroes
Additional restaurants and merchants are expected to participate.
This represents the third consecutive year that downtown merchants have held a "Summer Celebration."
"Downtown Cornwall has never been more vibrant and we want to give back to the community," says Chris Munro of Life's Little Pleasures. "Summer is a busy time in the city, and the last weekend in July is a great time to celebrate."
The Downtown Summer Celebration and Ribfest are just two of many events taking place in Cornwall and the region this summer.
Related Links
Categorised in: Business