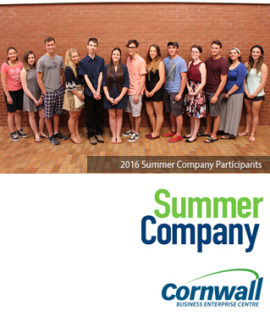 Summer Company 2017 Open for Applications
February 14, 2016
Cornwall Ontario –  Looking for a summer job? Why not create one yourself?
Appplications are now being accepted for 2017 edition of Summer Company, a program that helpsstudents start and run their own business through the summer months.
The program is funded by the Government of Ontario and operated by the Cornwall Business Enterprise Centre. Participants receive hands on business training and are matched to mentors who help guide them through the business stages. Each Summer Company participant can receive up to $3,000 to start their own business.
Students from Cornwall, S.D.&G. and Akwesasne between the ages of 15 and 29 who are returning to school in the fall are eligible to apply to the program.
"Summer Company is a great opportunity for students to explore entrepreneurship and make money," said Business Consultant Candy Pollard. "Not only does the student get to be their own boss, and receive start-up funding, they also gain valuable skills as they turn their business idea into a reality."
The Summer Company Program has seen a great deal of success in Cornwall, S.D. & G. and Akwesasne with over 100 students having opened and successfully run their own businesses, each receiving the maximum grant of $3,000. In 2016, $39,000 in grants was handed out.
Summer Company 2017 applications will be accepted until May 5th, or when capacity is reached. Interested students are encouraged to visit www.ontario.ca/summercompany for more information regarding the program and/or to fill out an initial application.
Cornwall Business Enterprise Centre staff are also vailable to assist in completing applications and answering questions.  You can drop by the Centre at the Civc Complex (100 Water Street East) or by calling 613-933-0074.
About the Cornwall Business Enterprise Centre
The Cornwall Business Enterprise Centre helps small business owners and entrepreneurs succeed in Cornwall, Akwesasne, Stormont, Dundas and Glengarry by offering information, tools and support during start‐up and growth stages of business operation. The Centre also offers seminars, workshops and networking opportunities that are designed with the entrepreneur in mind.
The Cornwall Business Enterprise Centre is operated by Cornwall Economic Development and is funded in part by the Government of Ontario.
Categorised in: Business