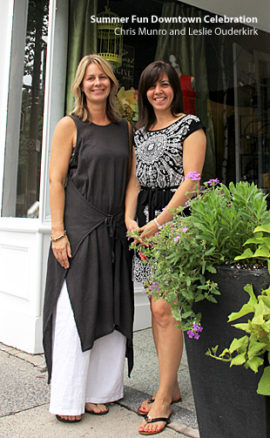 Summer Fun Downtown Celebration This Thursday
July 14, 2014
Cornwall Ontario – Downtown Merchants will be rocking the block once again – this Thursday July 17th!
Participating merchants will be opening late and offering special deals to help celebrate the Seaway Summer Food Festival that is taking place at the same time.
"People are invited to come downtown and take advantage of some special summer incentives and promos, maybe enter a draw or two and enjoy some great food at our local dining establishments," says Chris Munro, owner of Life's Little Pleasures on Pitt Street. "These little events seem to bring with them a certain type of positive energy. It really is a wonderful time!"
This is the third "Rock the Block" event  in the past 2 years, and it is growing in popularity. Merchants are still joining the party and with over 10 establishments participating, there will be something for everyone.  Here is a list of confirmed merchants:
Echotrends
Life's Little Pleasures
Studio 101
Laser Advanced Spa
Love Love Food
Aube Freres
Kids Korner
KAB Gift Boutique
Schulman's
Dreamland
INWIT Antiques & Interior Design
Brent Stang Taejwondo
Alpins Interiors
Bicycle World
Tweed and Hickory
Pommier Jewellers
TAG – The Art Gallery
Seaway Food Festival
The Seaway Summer Food Festival's will spotlight Cornwall' diverse and dynamic culinary offerings.  Select local restaurants will offer a specialty designed 3-course menu showcasing unique ingredients and dishes at $22 or $28. This event will be held over 5 days from July 15h to July 19th 2014. Participating downtown restaurants include:
Bar Q
Moustache Joe's
Schnitzels
Truffles Burger Bar
Learn more about the Seaway Food Festival by clicking on this link:
There is more to see and do downtown this week.
Stop by and take a minute to relax at the new pop-up park at the corner of Pitt and First Streets. This unique venture is part of a Heart of the City initiative.
Drop by Lamoureux Park this Saturday July 19th for the Movie Under the Stars at the Lions Club Bandshell. This free event will feature the presentation of the animated hit movie Rio 2 on a 25-foot inflatable screen!
For more information on the Downtown Summer Celebration, check out the Facebook page at: