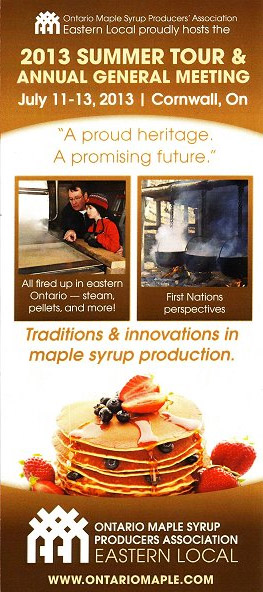 Sweet Tradition – Maple Syrup Producers Visit Cornwall
July 10, 2013
Cornwall Ontario – How sweet it is! Hundreds of maple syrup producers are descending on Cornwall for a 3-day conference as part of a provincial maple tour being offered by the Eastern Chapter of the Ontario Maple Syrup Producers' Association. Home base for all events is the NAV CENTRE, from July 11 to the 13, 2013.
Each year a different region of the Province hosts the annual gathering of maple syrup producers. This year, the tour will be hosted in Eastern Ontario. Local maple syrup producers and volunteers have rallied together with local businesses, municipalities, research groups and others to coordinate an interesting and informative program.
The Eastern Chapter last hosted a provincial maple syrup tour in 1999, following the 1998 ice storm damage.
"We are looking forward to welcoming our peers back to the region to showcase the new and exciting innovations we have on our local farms," said Chapter President, Brian Barkley.
Up to 400 delegates from Ontario, Quebec, Atlantic Canada and the adjacent maple producing states are expected to attend.
Barkley added that the Tour will showcase different technologies used to produce maple syrup, while maintaining linkages to traditional methods, and First Nations linkages.
"The goal is to bring attention to multiple aspects of maple syrup production and management conducted in Eastern Ontario by local producers," said Tour Coordinator Jim Hendry.
Delegates have a full schedule of events and technical workshops during their stay in Cornwall. These include presentations by research scientists as well as filed trips to value-added worships as the Sand Road Maple Farm, Wightman Sugar Bush, Levac Sugar Shack, On-the-Bend Sugar Camp and Sanders Maple Farm. Other events include local beer tasting, entertainment and the announcement of the OMSPA Maple Award Winners.
While pre-registration as a delegate is required to attend the tour, the public are invited to the Aboriginal Conference Opening on Thursday July 11, 2013 starting at 10:00 a.m., at NAV Centre in Cornwall.  The full tour agenda is available online at: www.ontariomaple.com.
About Maple Syrup Producers
Maple syrup operations can be found all over Ontario. Ranging from small part-time producers to large commercial operations it's very likely there's one near you.  Typically family owned and operated, often for multiple generations, Ontario maple producers offer some of the best maple syrup in the world.
The Ontario Maple Syrup Producers' Association (OMSPA) is an non-profit organization of about 400 Ontario maple syrup producers who make this natural product available for all to enjoy. Without central warehousing and factory style bottling facilities each Ontario producer must produce, package, and deliver their annual crop themselves.
2013 is one of the most successful syrup seasons on record. Many local farms still have maple syrup and other maple products available for sale. Support local farms and local food: purchase some today!
About NAV CENTRE
Located on the scenic shores of the St. Lawrence River in Cornwall, the NAV CENTRE is a full service conference centre offering access to 551 guest rooms and 70 dedicated state-of-the-art meeting rooms, spa, fitness centre with indoor pool and an Irish pub with live entertainment. The Centre can accommodate small groups of five to large groups of up to 500. Learn more at www.navcentre.ca.