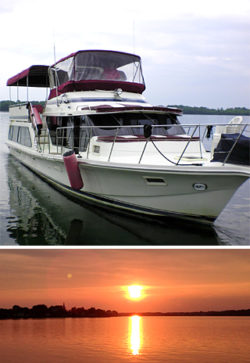 Take a Cruise on St. Lawrence River
June 11, 2018
Cornwall Ontario – Celebrate Cornwall's river heritage this Father's Day and Canada Day with a sightseeing cruise on the St. Lawrence River.
Cornwall Cruising is offering a series of two-hour cruises on the two upcoming holidays, departing from Marina 200 on the Cornwall waterfront. The cost is $20 per person and the cruises will be offered on the 54-foot cruising yacht operated by Cornwall Cruising.
Enjoy the beauty and magic of this great waterway as Captain Jim Martell guides the tour, passing beautiful scenery, wildlife and landmarks along the way.
Points of interest on the cruise include the historical point where the Canadians fought the Americans in the War of 1812, a sunken wooden ship carrying coal, numerous islands, interesting birds and wildlife, ships travelling along the St. Lawrence Seaway, 3 markers in the shipping channel denoting Ontario, Quebec and United States – all within 500 feet of each other – waterfront restaurants, cute cottages, luxurious homes and much more.
"This is a great way to experience the beauty and heritage of the St. Lawrence," said Capt. Martell. "It's a chance to have some fun with family and friends on the waterway."
Depending on the response to the cruises, there could be additional cruise dates and cruise options added in the future for the benefit of visitors and residents, Capt. Martell added.
The cruises will take place at the following times:
Father's Day – Sunday, June 17
3:30 pm to 5:30 pm
6 pm to 8 pm
Canada Day – Sunday, July 1
1 pm to 3 pm
3:30 pm to 5:30 pm
6 pm to 8 pm
Get your tickets!
Tickets are $20 per person and must be purchased in advance at the Cornwall Tourism Visitor Centre in the Cornwall Community Museum in Lamoureux Park. Please note ticket sales are in cash only.
The Museum is located at 160 Water Street, just west of the splashpad, and parking is available to the north just off of Water Street. The Visitor Centre is open daily from 8:30 am to 4:30 pm.
Notes about the cruises

Tickets are for specific cruise times and are non-refundable
A limited number of tickets are available for each cruise and will be sold on a first-come, first-serve basis
Cruises may be postponed on account of inclement weather
Attendees are asked to arrive at Marina 200 15 minutes prior to departure time
Attendees are asked to park above the marina at the Aquatic Centre parking lot
Beverages and snacks will be available for purchase on board
In addition to the cruises, Cornwall Cruising also offers private charter trips on the St. Lawrence River for corporate groups or special functions or events. For additional information, please call 613-931-2255.
Categorised in: Business