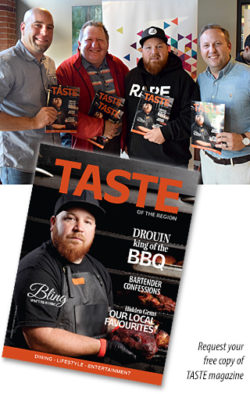 Taste Magazine Celebrates Dining and Shopping in Cornwall
November 4, 2017
Cornwall Ontario – If you are looking for ideas on where to eat and shop in Cornwall, you will want to check out the inaugural edition of TASTE.
The glossy 52 page magazine is produced by Seaway News, and carries a number of stories on dining, lifestyle and entertainment.
The magazine's concept was developed by Patrick Larose, Director of Sales with the Seaway News, who saw an opportunity to create a new magazine to build upon the success of Cornwall Living magazine.
"We've wanted to produce something like this for a couple of years now," said Mr. Larose. "I'm thrilled that we were able to produce it this year and I'm excited for everyone that participated in the magazine and everyone that gets to enjoy it."
TASTE celebrates the growing local food scene in Cornwall and SDG. Matt Drouin, resident grill master and barbeque afficando, is the cover story. Also included are recipes from local chefs, including Travis Dunning, Luc McCabe, Julia Graham and Tony Lacroix
"Our community has so much to offer, and it's surprising when you hear people say they haven't dined at a specific restaurant, shopped at a local retail store or experienced one of our live entertainment venues," said Mr. Larose.  "Our focus was to showcase those
specific topics in a way that was fresh and exciting."
TASTE is not just about food and dining. The magazine also includes articles on shopping, fashion, grooming tips and beauty trends as well as guides on whisky, beer & wine. Articles, photos and ads are all packaged together in a modern professional layout designed by creative director Colleen Parette.
TASTE magazine comes just in time for Restaurant Week, when select local restaurants will offer guests specially designed menus from November 7-11, and Shop the Blocks, a special night of shopping in Downtown Cornwall.
Over 20,000 copies of TASTE were produced.  The magazine is available in racks throughout the city as well as at popular local store and restaurants.
You can request a copy of the magazine, along with other publications, via this website.
Categorised in: Business