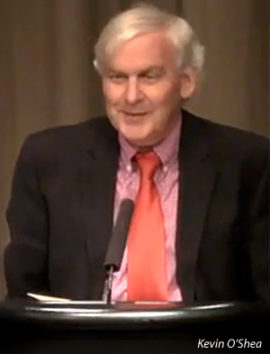 Team Cornwall Meeting on Beyond the Border
June 18, 2013
Cornwall Ontario – Team Cornwall will be holding its Annual General Meeting on Thursday, June 27 at the Best Western Plus Parkway Inn & Conference Centre on Vincent Massey Drive. The luncheon meeting will get underway at 12:00pm (Noon).
The meeting will feature a presentation by Mr. Kevin O'Shea from the Privy Council Office. Mr. O'Shea will speak about the Canada-US Beyond the Border Action Plan, and what it means for Cornwall. Mr. O'Shea is Assistant Secretary to the Border Implementation Team, an initiative of the Privy Council Office.
"Cornwall is home to one of Canada's most important border crossings, and we would like to encourage more people to use our border crossing for both personal and business travel," said Gilles Latour, Chair of Team Cornwall. "It is important that Team Cornwall members understand what is being discussed with regards to potential changes to rules governing border traffic."
In 2011, the Prime Minister of Canada and the President of the United States issued Beyond the Border: A Shared Vision for Perimeter Security and Economic Competitiveness. The Declaration established a new long-term partnership built upon a perimeter approach to security and economic competitiveness. This means working together, not just at the border, but beyond the border to enhance our security and accelerate the legitimate flow of people, goods and services.
The Privy Council provides non-partisan, public service support to the Prime Minister and Cabinet and its decision-making structures. In today's world of complex economic and social issues, much of this work involves consultation and coordination – both inside and beyond the federal government. The PCO secretariats play a key role in ensuring this collaboration.
Kevin O'Shea joined the Border Implementation Team as Assistant Secretary in September 2012 after spending six years at the Embassy of Canada to the US as the Minister (Political Affairs) where he devoted much of this time to working on foreign, defence, border and security issues with US and Canadian agencies.
Kevin O'Shea has a career of over 30 years in the Canadian Department of Foreign Affairs and International Trade.  In addition to Washington, Mr. O'Shea served a three year assignment as the Deputy Head of Mission at the Canadian Embassy to the European Union (2003-2006).  He has also had assignments to the Canadian Consulate in New York, the Canadian Mission to the Organization for Economic Cooperation and Development in Paris and the Canadian High Commission in Ghana.  In Ottawa, he has served as Director, Canada‑US Relations (2000‑2003) and Director, Canadian Assistance to the Former Soviet Union (1991‑1995).
Summer Company Launch
This meeting will serve as the launch of 9 summer companies run by local students. Attendees will have a chance to chat with these new entrepreneurs and learn more about their businesses.  The Summer Company program is funded by the Ontario Ministry of Economic Development, Trade and Employment, and administered by the Cornwall Business Enterprise Centre.
Annual General Meeting
This meeting will serve as Team Cornwall's Annual General Meeting. Lunch will be served at Noon, and the meeting will take place directly after the meal has been served. As in past years, the Board of Directors (Team Captains) will be elected at the meeting.
Open to All
The meeting is open to all – regardless of Team Cornwall membership.
Reserve Your Spot!
Tickets to the Team Cornwall Annual General Meeting are $15 each. To reserve a spot, please contact Julie Donkers at 613-933-0074 before Tuesday, June 25.
About Team Cornwall
Team Cornwall is a group of business people who have banded together to promote Cornwall to their business contacts around the world. Working closely with Cornwall Economic Development, the Chamber of Commerce and other local organizations, Team Cornwall members help spread the word about the considerable advantages of living and doing business in our hometown.
More information about the meeting and Team Cornwall can be found on the Team Cornwall website atwww.TeamCornwall.com.