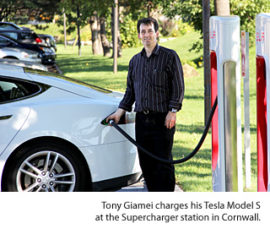 Tesla Opens Supercharger Station In Cornwall
September 8, 2014
Cornwall Ontario – Car enthusiasts in Cornwall will be on the look-out for some of the world's most advanced electric cars with the recent establishment of a Tesla Supercharger station at the Cornwall Ramada on Brookdale Avenue.
The Cornwall station is part of a growing network of fast-charging stations across North America to allow Tesla customers to charge their vehicles for free enroute to popular destinations. While Tesla owners can charge anywhere they have access to electricity, the Tesla Supercharger station provides a faster, easier alternative.  In fact, a Tesla Supercharger station provides 12-17 times the power of a conventional charging station.
"Tesla is very focused on providing free long distance travel for Model S owners," said Alexis Georgeson, Tesla Communications Manager. "Canada is a very important market to Tesla and Cornwall was an ideal spot for our customers travelling along Highway 401 through the Quebec City-Toronto corridor."
The Cornwall Supercharger station can accommodate 6 cars and will be available 24 hours a day, 7 days a week. It was built by Tesla over the past several weeks with the co-operation of the Cornwall Ramada.
"We're happy to partner with Tesla on bringing this green technology to Cornwall," said Scott Lecky, owner of the Cornwall Ramada. "We look forward to welcoming Tesla owners and showcasing what Cornwall has to offer."
Tesla owners spend an average of 30-45 minutes charging their vehicles, so a central location near restaurants, shopping and lodging was important.
"The Cornwall Supercharger allows road trippers to stop for a quick meal and patronize local businesses while their Model S charges for free," said Georgeson.
The Supercharger station is welcome news to Tony Giamei, a Cornwall resident currently driving a Tesla Model S.  Mr. Giamei is thrilled to have a Tesla charging station in his hometown. He's already making regular use of it and he's seen other Tesla motorists from Quebec and New York State taking advantage of the charging station as well.
"I could drive to California using Tesla charging stations along the way, for zero (dollars)," he said.
The Tesla Supercharger is the world's fastest electric vehicle charging technology, replenishing half a charge (about 200 kilometers) in as little as twenty minutes or they can fully charge to 425 kilometres in just one hour.
The Cornwall Supercharger is located at the Cornwall Ramada (805 Broookdale Avenue), easily accessible to travellers on Highway 401 via Exit 789 as well as travellers on the Seaway International Bridge that spans the scenic St. Lawrence River connecting Cornwall to Massena, New York.
About Tesla Motors
Tesla Motors was founded in 2003 by a group of Silicon Valley engineers who set out to prove that electric vehicles could be awesome. Tesla changed the auto industry in 2008 with the launch of the Tesla Roadster, the world's first highway-capable electric vehicle. Tesla is furthering its mission to drive down the cost of electric vehicles with the Model S, the first mass-produced electric premium sedan. With the most energy-dense battery pack in the industry and best-in-class aerodynamics, the Model S has a range of 265-miles—the longest range of any production electric vehicle in the world. Tesla's electric motor produces an impressive 443 pound-feet of instant torque, propelling Model S Performance from 0 to 60 in as little as 4.2 seconds. Sitting beneath the floorboard, the revolutionary Tesla powertrain creates a remarkably low center of gravity and delivers a thrilling driving experience.  The  Model S has received many awards and accolades during its first year on the market, including Motor Trend 2013 Car of the Year, TIME's Best Invention of the Year 2012, Consumer's Reports highest score ever given to a car, and NHTSA 5-star safety rating.