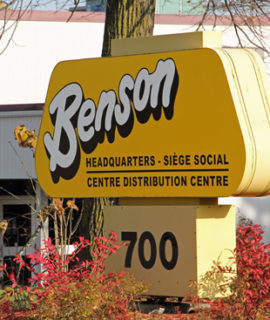 The Benson Group Doubles Its Footprint in Cornwall
December 18, 2013
Cornwall Ontario – Cornwall's reputation as one of Canada's major distribution hubs continues to grow.
The Benson Group will be expanding its main distribution centre in the Cornwall Business Park following the acquisition of a 217,000 sq.ft. building, just across the street from its Headquarters.  The move will result in a total footprint of 430,000 sq.ft. of building space on 60 acres.
"We are proud to show our confidence in Cornwall and expand our existing operations in the City," said Marty Benson.
The expansion will result in job creation while continuing to position Benson as the leader in tire distribution in Canada. The company already has an impressive tire distribution network in Ontario and Quebec for car, light truck, heavy duty truck and OTR sectors.
The announcement was made at the Team Cornwall Year in Review meeting.
"The Benson family continues to lead by example, both here in Cornwall and throughout its business network," said Mayor Kilger.
The Benson Group operates a network of strategically located auto part retail outlets in Ontario and Quebec. That business is supported by the company's headquarters and state-of-the-art distribution centre in the Cornwall Business Park. Benson maintains the most comprehensive inventory of any auto parts jobber in Ontario both in brand name and more modestly priced generic brands.
The Benson Group employs 300 people in Cornwall and 1600 throughout the Benson network in Ontario and Quebec.
About The Benson Group
The Benson Group has grown to operate over 100 locations in Ontario and Quebec, known by its distinctive yellow trucks and yellow buildings. Through partnerships with major parts suppliers, the company is able to offer a wide variety of services to Canadians, including tires, auto parts, repairs and maintenance. The Benson Group is 100% Canadian owned and operated and committed to our communities and employees.
For more information visit www.bensonorg.com
About the Cornwall Business Park
The Cornwall Business Park is approximately 1500 acres in size and is home to Cornwall's largest private sector employers. Land is available for $30,000 an acre. Available services in the Business Park include municipal water, sanitary sewers, electrical power, natural gas, and access to high speed telecommunication services. Access to Highway 401 is available via Interchange 796 (Boundary Road) and Interchange 792 (McConnell Avenue).