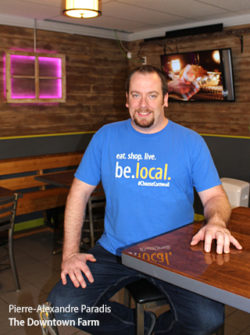 The Downtown Farm Offers Local Comfort Food
December 4, 2017
Cornwall Ontario – After only a few months operating in the heart of Cornwall, the Downtown Farm is quickly becoming a go-to spot for locally sourced, healthy lunch and dinner options.
The 1500 sf restaurant at Pitt and First seats up to 28 guests and offers a comfortable, homelike setting.
The idea for the new downtown-business came from the minds of friends and fellow Cornwall restaurant owners Billy Karamitsos and Pierre-Alexandre Paradis. Having owned two successful restaurants in Cornwall, Billy K's and Au Vieux Duluth respectively, the duo decided that the downtown area deserved a place to eat that offered the perfect blend of convenience and comfort, while not sacrificing fresh and healthy options.
"We offer food that is made fresh daily. We also customize every sandwich and salad to the customer's preference," said Mr. Paradis. "We make a wide variety of fresh vinaigrettes and dipping sauces at the restaurant. The Downtown Farm is unique to Cornwall."
The menu is built around the fact that dietary needs are shifting, and consumers are looking for new options. Accordingly, choices include soups, sandwiches and salads made up with the freshest ingredients possible. A perfect option for the cold winter months is the homemade chili.
"There are lots of customers shifting to a plant-based diet," says Mr. Paradis. "They are vegan, vegetarian or even have gluten intolerance. Others eat low-sodium, or low-calorie meals. We modified the menu to provide lots of fresh and healthy food options to choose from."
The Downtown Farm represents an investment of $200,000, yet the focus is as much on the community as it on business.
Mr. Paradis has been very active in local charity efforts, helping raise over $170,000 for various local organizations including the Children's Aid Society and the Canadian Mental Health Association. He also volunteers his time with Habitat for Humanity Cornwall.
Located at 101 Pitt Street The Downtown Farm is a great place to grab lunch after heading downtown for some shopping. The cafe is open from 11:00am to 7:00pm daily from Monday through Saturday. You can connect with the Downtown Farm at (613) 935-4548 and online at:
Categorised in: Business