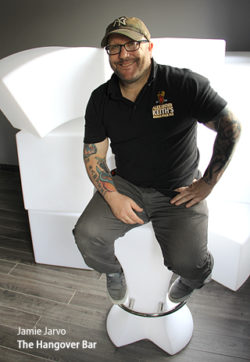 The Hangover Bar is the Newest Addition to Downtown Cornwall
May 19, 2017
Cornwall Ontario – Over 300 people are expected to celebrate the opening tonight of Downtown Cornwall's latest establishment, The Hangover Bar.
The Hangover Bar is the brainchild of local entrepreneurs Yogi Patel, Jamie Jarvo and Sushil Patel. The building has been completely renovated, offering 7000 sq.ft. of space over 2 floors. The new business has created jobs for 20 staff people.
"We are bringing an upscale bar lounge experience to the downtown core, to complement places like Schnitzels,Truffles, Table 21, Moustache Joe's, as well as the sports bar Dekes and Squeaks, says Mr. Jarvo. "Our goal is to give a place that is full of diversity, for all walks of life."
Mr. Jarvo is well known in Cornwall as DJ and the lead singer for the band Switchgear.
The Hangover promises to be a colourful place during the night hours, with a light-up LED dance floor, and furniture that also lights up.
"We are definitely offering a unique experience- we invite people to come out and check out the club," says Mr. Jarvo.
The Hangover will offer a variety of events and special theme nights, including live music, stand up comedy, ladies night, pool and dart competitions.
The owners also are working towards opening a kitchen in the near future.
"We recognize that trying to succeed with only the night scene gives us a very small margin of success," says Mr. Jarvo. "Our goal is to offer an entertainment option for people 25 and up, and to vary our offerings so that there is always something new to experience."
The Hangover Bar is located at 1131/2 Pitt Street, just off the public parking lot. The hours of operation are
Monday – 7-11
Tuesday  – 7-11
Thursday – 8-2
Friday –  8-2
Saturday –  8-2.
You find out more about The Hangover Bar online:
Categorised in: Business