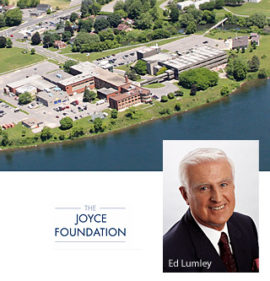 The Joyce Foundation Donates $2 Million To St. Lawrence College
January 28, 2015
Cornwall Ontario – The path to higher education was made a little bit easier this week following the announcement that The Joyce Foundation has made  a $2-million donation to St. Lawrence College.
The funds will be used to establish The Joyce Foundation Ed Lumley Bursary.
The gift is the single largest gift in the history of St. Lawrence College, and it recognizes the contributions of the Honourable Ed Lumley, a nationally renowned businessman, politician and member of the Order of Canada. Mr. Lumley is a former Mayor of the City of Cornwall and former MP for Stormont-Dundas.
The Joyce Foundation is a private family foundation created by Canadian entrepreneur Ron Joyce. The Foundation is dedicated to supporting the social, economic and emotional well-being of children and youth by empowering them to develop into healthy, confident, independent contributors to Canadian society.
Mr. Lumley is currently a Trustee on The Joyce Foundation Board and friend of Ron Joyce.
"For some students the opportunity to go to college is a challenge because of the many barriers they face. The Trustees on The Joyce Foundation Board truly believe in helping kids attain higher education because when education is more accessible, everyone benefits," says Ron Joyce.
St. Lawrence College has indicated that the funds will be used to create an endowed bursary fund for students who reside in the three communities and counties surrounding St. Lawrence College's campuses. Bursaries of up to $3,000. per year will be available, and may be renewed based on eligibility requirements. Bursary recipients will be required to seek a mentor with the first bursaries being awarded in September 2015.
"We are honoured to receive such a generous gift that speaks to the importance of investing in our communities. This endowment will go a long way towards helping students from our catchment area reach their goal of attaining a post-secondary education at St. Lawrence College," says Glenn Vollebregt, St. Lawrence College President and CEO.
You can learn more about The Joyce Foundation on its website at www.thejoycefoundation.com
About St. Lawrence College
Located along the shores of the St. Lawrence River, SLC has three campuses in Brockville, Cornwall and Kingston. St. Lawrence College boasts 6,500 full-time students from Canada, and more than 40 countries worldwide. The SLC college community includes 20,000 part-time students, 1,000 staff, and more than 70,000 alumni. It also serves more than 3,000 Employment Services clients annually. The college has recently invested in the development of Applied Research and the revitalization of its campuses.
You can find out more information on the St. Lawrence College website:
St. Lawrence College is also featured in Cornwall Living magazine. You can order your complimentary copy by clicking here.