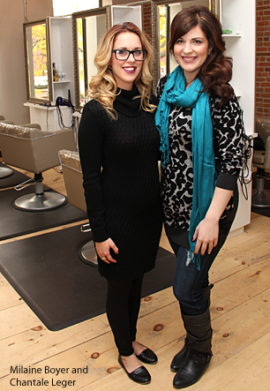 The Loft Salon Adds Style To Downtown Cornwall
October 23, 2014
Cornwall Ontario – A lot of people are remarking that Downtown Cornwall has never looked better.  With the help of the owners of The Loft Salon, the same can be said for the people who visit the area for shopping and dining.
Chantale Leger and Milaine Boyer opened the The Loft Salon above Pure Esthetics on Pitt Street earlier this year. The two stylists have a combined experience of 16 years and have built up quite a loyal following; however this is their first venture as business owners.
"We wanted a chance to realize our concept of an upscale but affordable downtown salon," says Chantale.  "We spent years gaining skills and knowledge in the industry and it was time to take what we had learned and apply it to our new business."
The two stylists contacted Candy Pollard of the Cornwall Business Enterprise Centre for help in finalizing their business plan, and after some hard work, they were soon booking appointments.
The Loft Salon offers a wide range of services including haircuts, styles, extensions, colors, highlights, treatments and more. In addition to selling styling aids such as flat irons, curling irons and brushes, the business also carries a full line of L'Oreal professional shampoos, conditioners and styling products.
Chantale and Milaine are supported by a talented team, each with their own style and strengths. These include Melissa Mainville, Alex Besner, and the newest addition Jessica O'Brien. These three stylists add another 23 years of combined experience to the Loft Salon team.
At 800 sq.ft., the Loft Salon is big enough for staff to work comfortably yet small enough to ensure that each customer feels that they are well looked after.
"Its a space that you would find in a big city," says Milaine. "The large brick wall and wooden floor, combined with all the elegant decor make this salon a very trendy and modern loft, hence the name. We also chose this space because we love what PURE Esthetics has done with their business, and wanted to offer our customers the convenience of getting all their services done in one location."
The building that houses the Loft Salon and Pure Esthetics is owned by Vance DeSaulniers, a local contractor. He has taken care to preserve the heritage elements of the building, which has attracted a third tenant, Framed Photography.
"Downtown is the place to be in Cornwall," says Chantale. "There is so much going on, from the new restaurants, bars, and all the upgrades being done to the buildings. It's becoming the new hip place in town. We couldn't be happier being here and sharing it with so many supportive business owners."
About The Loft Salon
The Loft Salon is located at 137A Pitt Street and open Tuesday through Saturday.  You can book an appointment by calling 613-935-4646.