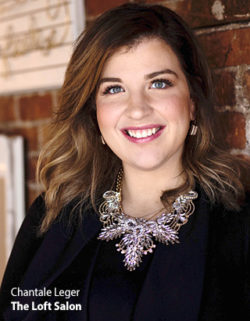 The Loft Salon Expands Into New Space
October 6, 2017
Cornwall Ontario – Sometimes it's the small moves that pay huge dividends.
Case in point is The Loft Salon, which is bringing a big-city feel to small-city clients at its new location in downtown Cornwall, directly across the street from where they were first located on Pitt Street. Owner Chantale Leger said the reason for the move was simple – her business had simply outgrown its previous home.
"We just ran out of space," she said. "We were upstairs and my goal was to eventually own the space. We're planting our roots downtown and we wanted the traffic to grow our business downtown."
And grow it has.
The Loft Salon now boasts nine stylists, as well as an eyelash technician and a nail technician.
"We have doublde here. We are also offering several different services like nails," said Leger. "We do manicures and pedicures…and we have treatment rooms in the back for lashes and aesthetics as well. We just want to offer the biggest bang for the client's buck. So we have a one-stop shop."
Customers downtown have enjoyed the ability to shop at local stores, and then stop into the salon before heading out for an evening at one of the popular downtown eateries.
"A lot of the comments from our customers have been 'Wow! Am I in Cornwall or Toronto?'" said Leger. "That's kind of the feel I am going for. The small-town feel where you are being welcomed at the front desk and we know who our customers are."
The Loft Salon is located at 130 Pitt Street. It is open Tuesday and Wednesday 9:30 a.m. to 6:30 p.m., Thursday 9:30 a.m. to 8:30 p.m., Friday 9 a.m. to 7 p.m. and Saturday 9 a.m. to 4 p.m.
To book an appointment please call 613-935-4646, or visit The Loft Salon online:
Categorised in: Business