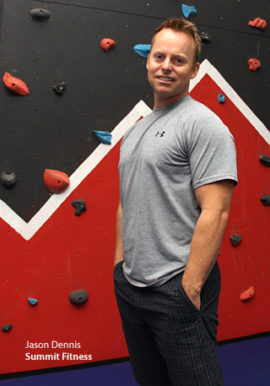 The New Face of Summit Fitness
June 7, 2016
Cornwall Ontario – One of Cornwall's favourite gyms is getting a major makeover.
Summit Fitness is located in spacious premises at 1515 Pitt Street, and while the outside of the building will look the same, changes to the interior are generating a lot of buzz amongst the 1500+ members.
"Our members have been very loyal and it was time to give them something fresh, modern and new," says owner Jason Dennis. "The fitness industry is always evolving and we wanted to provide some new services that Cornwall hasn't seen previously."
One of the highlights of the investment is a new bouldering wall – the first in Cornwall.
Bouldering is a form of rock climbing that is performed without the use of ropes or harnesses. While it can be done without any equipment whatsoever, most climbers use climbing shoes to help secure footholds and chalk to keep their hands dry. The climbing wall at Summit includes large bouldering mats to prevent injuries from falls.
Other improvements include the purchase of new state-of-the-art cardio and strength equipment, new custom dumbbells and complete renovations to the main lobby and change rooms. An outdoor basketball court will also be added to the project, which Mr. Dennis expects to be complete by August.
"We will remain open throughout the renovations, and the work is planned in such a way that it won't interfere with our members. The bouldering wall is already up and proving to be very popular."
In all, the investment in the gym will be $250,000. It is a significant milestone for Mr. Dennis, who took ownership of the gym in 2005.
"Health & Fitness has always been my passion," says the 38 year-old entrepreneur. "When we took over we had to re-establish the culture within the club. We wanted everyone at Summit to feel comfortable when they worked out. We wanted to create a family type atmosphere where anyone can come in and not feel intimidated."
Mr. Dennis went to St. Lawrence High School in Cornwall and then the University of Western Ontario in London where he graduated with a Bachelor of Health Sciences (BHSc) degree.
"When I had the opportunity to come back to Cornwall after graduating from University I was ecstatic," adds Mr. Dennis. "I'm very proud to be able to help people from my community that I've known my whole life."
"Helping people achieve their health goals is the best feeling ever."
About Summit Fitness
Summit Fitness is a full service fitness centre offering services such as a weight room, cardio room along with steam room, change rooms and showers. It offers personal training as well as massage therapists, crossfit and group fitness classes (yoga, bootcamp, step, etc). The facility also has an on-site day care centre and outdoor heated pool.
Summit Fitness is a 24 hour facility with front desk hours at the following times:
Monday-Thursday: 7 a.m. – 9 p.m.
Friday: 7 a.m. – 8 p.m.
Saturday: 8 a.m. – 3 p.m.
Learn more about Summit Fitness online:
Categorised in: Business