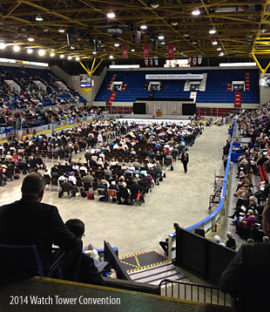 Thousands Attend Watch Tower Convention In Cornwall
June 20, 2014
Cornwall, Ontario– The Cornwall Civic Complex is once again hosting the annual Watch Tower convention of Jehovah's Witnesses. The convention will see some 10,000 delegates visit Cornwall over three weekends.
English conventions will be held during the weekends of June 13 to 15 and June 20 to June 22. The last weekend, June 27 to June 29, will be dedicated to the French language.
"We are delighted to once again host this important event," says Janice Robinson, Facilities Rental Coordinator. "The organizers work very hard each year to put on such a successful convention."
The Watch Tower Convention has been held in Cornwall for the past 16 years.
Conventions are important boosts to the city's economy, and the Watch Tower Convention is certainly the largest over the year. Area restaurants, hotels and other merchants all benefit from the influx of visitors.
"The parkland setting of the Civic Complex is a great natural locale for the Watch Tower Convention," notes Ms. Robinson.  "It is great to see convention delegates walking along the St. Lawrence River or having lunch in Lamoureux Park."
During the months of June through August, Jehovah's Witnesses will present 55 conventions in 25 locations across the country.  This year's convention theme is "Keep Seeking First God's Kingdom".
The Witnesses' convention program promises a fresh examination of Biblical references to seeking God's Kingdom. Through lively discourses, dramatic Bible readings and presentations, and even a live play, program parts will emphasize the importance of seeking God's Kingdom first and making materialistic things less of an importance.
The public is invited to attend any session or the entire program at the Civic Complex. All morning sessions will begin at 9:20 am. The afternoon sessions begin on Friday at 1:50 pm, Saturday at 1:35 pm and Sunday at 1:25 pm. There is no admission fee. Conventions of Jehovah's Witnesses are supported entirely by voluntary donations.
About the Civic Complex
Situated in scenic Lamoureux Park along the banks of the St. Lawrence River, the Cornwall Civic Complex is a modern facility that offers convention seating for up to 5800 people along with a versatile sound and light infrastructure.