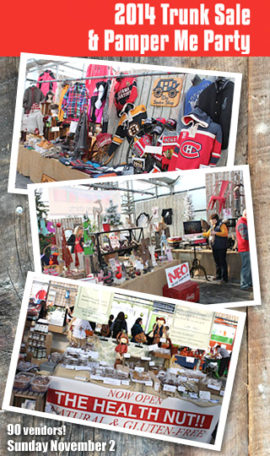 Thousands Expected For 5th Annual Trunk Sale
October 29, 2014
Cornwall Ontario – One of the year's most anticipated events is finally here. Dozens of artisans and merchants will gather amongst the apple trees at Marlin Orchards for the Trunk Sale & Pamper Me Party.
This will be the 5th year that We3Girls & Co. (Debbie Burns, Julie Hickman, Nancy Sylvester, Tony Lacroix) have organized the popular event, which runs Sunday, November 2nd from 10 am until 4 pm.  2000 people are expected to attend.
"We're really looking forward to this year's event, which promises to bigger and better than ever before!" says Ms. Burns.  "It is our goal to offer the ultimate shopping experience."
Each merchant will have a table in the expansive greenhouses at Marlin Orchards, located just east of Cornwall on Country Road 2. There will be something for everyone, with original art and pottery on display, as well as goods from local merchants and manufacturers.  Local restauranteurs will be offering up tasty samples including Bar Q, Schnitzels, Kelsey's, Love Love Food & Joe's Place.
"We personally select the vendors in attendance and focus on covering all of the bases so that no matter whom you are shopping for, you will indeed find that perfect gift," says Ms. Burns.  "Our most popular vendors are returning but we also have several new faces this year."
A portion of each sale will go to the Cornwall Chapter of the MS Society.  To date, We3Girls & Co. have raised over $40,000 for the charity.
"This is always a great fundraiser for our team," says says Karen Torrie-Racine, Volunteer Office Manager with the MS Society.
This year will feature an expanded parking area, with golf-cart shuttle service from your car to the doors, courtesy of Summerheights Golf Links.
Tickets
People can purchase their $5 ticket in advance and skip the line at the door. Tickets are available at Life's Little Pleasures, Echo Trends, Neo Vintage, Cornwall Toyota, Marlins, Love Love Food, Joe's Place & the MS office.  More information can be found online:
More Info
Vendors
Over 90 unique vendors from Cornwall & area will be on hand, including:
Bar Q
Schnitzels European Flavours
Kelsey's Cornwall
Joe's Place
Love Love Food
Marlins Orchards
Melting Pot Studio
Knot by Design
Little Miss Headbands
Jennifer DeBruin
The Squire Shop
Stone Temple Jewels
South Hill Designs
Diva's Defined
Beyond Clarity
Zengarry Vegetarian Cuisine
The Health Nut
Clarkburn Farms
Lambros Quality Products
Poppin Make-up
Patrick Guindon Art
Anick Bauer
Quilted Cabin
Smooth
Magnolia Hill
Be Charmed
Raspberry Creek Primitives
Red Wind Studio
Rodan & Fields
Silpada
Organics by Julia
Cathy's Country Crafts
Herbal Magic
Frank Burelle
Little Walker Designs
Milena's Goodies
TLC by Bernice
Pure Esthetics
Dreamland
Once Upon a Robyn's Nest
Popolo Designs
Thirty One Gifts
Pampered Chef
K-shirts
OBO Studios
Royal Custom Carpets
Shorteez
Renew
Souly Immaterial
Country Rune
Steward Bags
Nutcracker
Soc-it loose leaf teas
Unrefined Olive
Epicure
Taylor made cards
K-frames
Glengarry Cheese
Life's Little Pleasures
Farm Ecology
Axxis Optical
Wightman Maple
Bee Real Products
Clara's Loot Bags
Fantasy Realm
Kids Korner
Elegance in Wood
Anne Wylemans
YMF Handbags
Heather Levac Photography
Roxanne Delage
Kashew's Kreations
Cat Susans
Barnfull O' Goodies
Earle's Vintage & Designs
Studio 101
Nerdy Birdie Co.
Langview Farms
Neo Vintage Furniture
Kate Dwyer Designs
Crazy Fox Studio
Bez Gluten free Bakery
Naturally Beautiful
The Quirky Carrot
Framed Photography