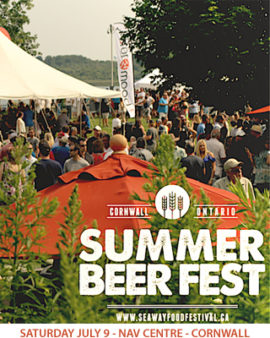 Tickets Going Fast for Summer Beer Fest
June 30, 2016
Cornwall Ontario – Beer lovers will be happy to hear that plans are shaping up for Cornwall's Summer Beer Fest
Taking place on July 9th at the NAV CENTRE, the Summer Beer Fest is a unique gathering that celebrates local restaurants and the fast-growing craft beer market.
With over 15 breweries, 1 cidery, and 2 vineyards confirmed, there will be roughly over 60 varieties of beer available for festivalgoers to try. Participating breweries include Cornwall's very own Rurban Brewery as well as Cassel Brewery in Casselman and Beau's in Vankleek Hill.
Several local eateries will be offering a delicious and unique dimension to the typical beer festival. Organizers believe the equal focus on a quality food experience is what sets Summer Beer Fest apart.
"At the outset, this event's goal was to showcase what's best about our region and community," says Sebastien Manigat, organizer of Summer Beer Fest and Founder & Director of the Seaway Food Festival. "By marrying our tremendous craft beer industry and our city's exceptional culinary talents, we believe we have achieved that."
A new feature this year is the introduction of Beer Fest Summer School. Jay Killoran from Aleienated has created three courses titled BEER 101, BEER & CHEESE 201, and BEER & FOOD PAIRING 301. These educations sessions are for everyone, designed to expand the horizons of the casual craft beer drinker while also enhancing the Summer Beer Fest experience for the more seasoned enthusiasts.
If good food and great beer was not enough to entice you to come, Summer Beer Fest  will also be showcasing some fantastic local musicians, including Joel Sauvé, Grace & Eric Willison, Mandee Woods and Sean Harley.
Participating Breweries, Wineries and Cider
Rurban
Cassel Brewery
Beau's All Natural
Tuque de Broue
Kichesippi Beer
Muskoka Brewery
Forked River
Calabogie Brewing
Bicycle Craft
Mill Street
Whitewater
Hockley Valley
Steam Whistle
PEI  Brewing Co.
Railway City Brewing Co.
Joseph's Estate Wines
Smokie Ridge Vineyard
Brickworks Cider
Participating Restaurants
Bar Q
Truffles Burger Bar
Table 21
ESCA Pizza
Jambel
Schnitzels
Sheep's Head Bistro
Love Love Food
Jet Set Pub
Tickets
With over 1,200 tickets sold and still two weeks of sales left, organizers Sebastien Manigat and Ian Bentley are urging beer enthusiasts to buy tickets as soon as possible to ensure they don't miss out.
"The response we have seen so far from the community has been phenomenal. Frankly, it has surpassed our expectations! Just in the past couple of days we've added a couple more breweries and food vendors to accommodate the influx of guests. We are fairly certain that we will sell out again this year," said Manigat.
There are two ticket options available, another new feature added to this year's Summer Beer Fest. General Admission tickets are $20 and provide access to the Summer Beer Fest only. During the event, guests will be able to purchase $1 tokens which can be exchanged for samples of alcoholic beverages and/or food items (subject to pricing).
Deluxe tickets are also available for $75 and include priority parking and access to the Seaway Food Festival Hospitality Suite. The Suite features private restrooms, exclusive private beer tastings from Kichesippi, Beau's, Muskoka Brewery, and Cassel Brewery, summer cocktails provided by Nectar & Mixologie, hors d'oeuvres from Chef Dave Petrynka of Eight Zero Zero, snacks, a shaded private lounge area, and amenities such as coffee, tea, and water.
Tickets can be purchased online at www.seawayfoodfestival.ca or at the NAV CENTRE.
Details
Summer Beer Fest is a 19 years and over event and will take place at the Jet Set Pub at the NAV CENTRE located at 1950 Montreal Road. It will be held on July 9th, 2016 from 11:00 am to 7:00 pm.
Categorised in: Business