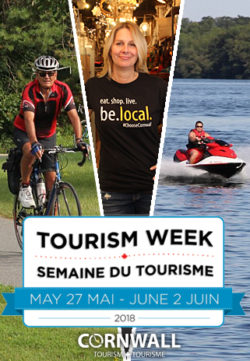 Tourism Week being celebrated in Cornwall
May 25, 2018
Cornwall Ontario -The spotlight will be on Cornwall's tourism industry this coming week as the community celebrates Tourism Week.
"We are starting to see a lot of visitors in town so this is a great way to kick off the summer tourism season," said Kevin Lajoie, Tourism Coordinator with Cornwall Tourism. "Visitors may be in town for a conference, to bike along the Waterfront Trail, or even simply stopping in on their way to another destination. Tourism Week reminds us just how important this sector is to our local economy."
Late May is typically when many tourism amenities extend opening hours to greet visitors. Just this week the Cornwall Community Museum and OPG Visitor Centre reopened for the season, and Cornwall Tourism has opened its seasonal visitor centre inside the Cornwall Community Museum in Lamoureux Park.
"We've already had visitors from Quebec, Toronto and even London, England stop by the visitor centre," Mr. Lajoie said. "We expect to welcome many more visitors as the summer tourism season ramps up."
Tourism Week in Canada is a grassroots initiative that brings attention to the economic opportunity presented by travel and tourism. The event seeks to align tourism organizations, businesses and other partners from across the country.
"Tourism is an important part of Cornwall's economy," said Lezlie Strasser, Executive Manager with the Cornwall and Area Chamber of Commerce. "Every business has a role to play in greeting visitors and helping make their visit as rewarding as possible."
To help celebrate Tourism Week, the Chamber of Commerce is holding a Pub Nite for members on Tuesday, May 29th at Esca Gourmet Pizza + Bar. This follows the season opening day for the Kinsmen Farmer's Market on Sunday, May 27th.
There are a number of other events planned for the week, with some of them starting a day early:
May 26: RCMP Musical Ride
May 26: Incredible Edible Plant Festival
May 26: Walleye Classic
May 26-27: Focus Art Exhibition
May 27: Race Night – Cornwalll Motor Speedway
May 27: Kinsmen Farmer's Market
May 28: Barra McNeils, Aultsville Theatre
May 29-30 : Sheep Shearing Days, Upper Canada Village
May 30-31 : River Symposium, OPG Visitor Centre
May 31: OBO Gallery Opening, Cline House
"There is a lot to see and do in Cornwall this year," says Mr. Lajoie. "Cornwall Tourism.com is the best place to find out about upcoming events as well as information to help you plan your trip."
About Cornwall Tourism
Cornwall Tourism is reponsible for marketing Cornwall to attract new visitors. The office maintains a visitor information centre year-round at the Civic Complex. CornwallTourism.com is an online resource that provides current tourism news as well as a comprehensive calendar of events.
You can follow Cornwall Tourism online:
Categorised in: Business