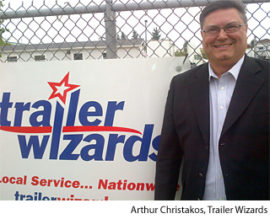 Trailer Wizards Expands Cornwall Facility
January 22, 2014
Cornwall Ontario – Trailer Wizards is expanding its current location in Cornwall to provide a better link between Toronto and Montreal.
The company has leased a five-acre, full-service location on Glen Road that features a three-bay shop, parts department and office for administration and operations. This new location is across the road from Trailer Wizards current 4-acre yard, which it has occuped since October 2012.
"Cornwall has been growing for a number of years now," Arthur Christakos, vice-president of Trailer Wizards' Ontario Region explained. "Many of our current customers have already established distribution centres or will be expanding in Cornwall in the near future. We want to be where they need us with full rentals, sales, service and parts capabilities in order to continue to make it easier to work with Trailer Wizards."
The expansion of the Cornwall operation has meant the hiring of 10 people. Trailer Wizards has a growing business in Cornwall, as it counts SCM and Target amongst its customers.
Trailer Wizards has Canada's largest rental fleet of truck trailers and maintains an inventory of over 20,000 trailers ranging from 40′ to 53′ trailers, flatbeds, LCV and more. In addition to leasing trailers, the company is also an authorized Vanguard dealer and offers maintenance, repair and parts services. Trailer Wizards was formed with the merger of Lions Gate Trailers and Provincial Trailer Rentals and together with its sister company and container provider, Contor Terminals, Trailer Wizards can provide its customers with a single source of trailer experts, coast to coast. More info can be found at TrailerWizards.com
The new Cornwall location for Trailer Wizards can be accessed of Hwy. 401 and Boundary Road, at 18060 Glenn Road. It will officially open for business on February 1st.
About Cornwall's Supply Chain Sector
The supply chain is one of the most essential sectors of the Canadian economy, involving about 767,000 workers from a range of occupations and industries.
Cornwall is home to some of Canada's largest distribution centres with Walmart, Target and Shoppers Drug Mart operating state of the art facilities. Other notable companies include the Benson Group, Richelieu Hosiery, United Auto Parts and Cornwall Warehousing. The Cornwall Business Park is also home to some of Eastern Ontario's fastest growing trucking companies, including Minimax, Seaway Express, ITS, the Villeneuve Group and others.
You can learn more about Cornwall's supply chain sector in our Logistics Brochure. Request a copy of the brochure by using our Request Info page, or download it via our Resources page.