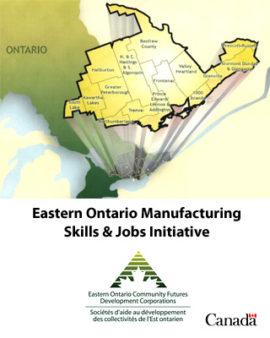 Training Assistance For Cornwall Manufacturers
January 16, 2015
Cornwall Ontario – Manufacturing companies located in Cornwall and the region may be eligible for a new program that offers 50% reimbursement of training costs.
The Eastern Ontario Manufacturing – Skills & Jobs Initiative is being funded under the Eastern Ontario Development Program administered by FedDev Ontario.  $160,000 has been allocated to distribute throughout Eastern Ontario, with $20,000 allocated for the Cornwall region.
"Companies are invited to contact our office and discuss how this program can help them," says Diane Soucie, Senior Project Officer with the Eastern Ontario Training Board. "The amount available to each company will depend on program take-up in the region, and in Eastern Ontario as a whole. We can definitely fund more than one training session per company."
The program seeks to offset training costs undertaken with a college, university or other 3rd party trainer. This program is a pilot project, with a deadline of March 31, 2015.  However, companies may be eligible for a 50% retroactive reimbursement of training costs incurred after May 13, 2014.
If this program is successful, it will be renewed from April 2015 to March 2016.
"We believe that a well trained workforce is the best tool a company can have to remain competitive and grow," says Ms. Soucie. "The Eastern Ontario Training Board is committed to helping local companies upgrade their skills."
Who is eligible?
Companies eligible for consideration include enterprises who are fabricating a product – e.g. manufacturers, construction companies fabricating a framework within a warehouse or a winery.
What types of training qualify?
Technical and soft skills delivered by a third party trainer.
WHMIS and First Aid does not qualify.
The following are examples of training that DOES qualify:
Train-the-Trainer
Supplier Training
LEAN or other quality training
Ongoing Training (If the training runs over the March 31 2015 deadline, invoices would have to be separated into the two fiscal years)
Interested companies are invited to contact Diane Soucie directly at dianes@eotb-cfeo.on.ca or by phone at 613-680-7096.
About the Eastern Ontario Training Board
The Eastern Ontario Training Board (EOTB) was established to play a leading role in labour force development. It undertakes a number of projects throughout the year, and publishes the TOP report on local labour force issues. More info can be found online: