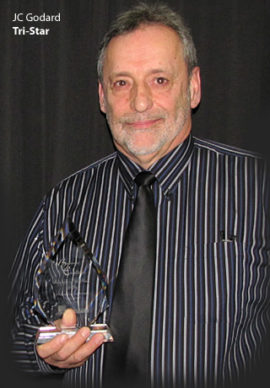 Tri-Star Construction Wins Business of the Year Honours
February 27, 2015
Cornwall Ontario – One of Cornwall's most ambitious builders has been recognized with the Business of the Year award from the Chamber of Commerce.
Tri-Star Construction is owned and operated by Mr. JC Godard, along with his development arm, JCS Godard Investments. Mr. Godard and his tradespeople have been busy building a number of landmark residential complexes in Cornwall, with more planned on the way.
"It's a honour to have won and I am very pleased to be part of this community and to create jobs," said Mr. Godard.
One of Mr. Godard's recent projects is the 95 unit Riverdale Terrace, which opened its doors in 2012. The striking lodge-style retirement residence overlooks the St. Lawrence River on the banks of the Cornwall Canal.
Mr. Godard followed that up with King's Landing in 2013, a 40-unit residential tower in Cornwall's east end offering fantastic views of the St. Lawrence River. Knox City Centre has followed in the downtown core at the corner of Second and Sydney. This latest 7 storey project is 82% built.
"Knox City Centre should be completed by May 1st as we take care of a few finising touches," said Mr. Godard. "We have only 10 apartments remaining and 2 ground floor commercial spaces to rent."
Mr. Godard is hardly one to stand idle for long.
He is presently in the development stages for his next project, slated for Second Street West where the old Sunset Motel once stood.
"Sunset Court will be a 20 unit 1 bedroom complex to support the needs of seniors wanting to live close to Riverdale Terrace," says Mr. Godard.  "We plan to commence construction in June-July of this year."
You can learn more about Tri-Star Construction projects online:
About the Cornwall and Area Chamber of Commerce
The Cornwall and Area Chamber of Commerce is the unified voice of the region's business community speaking towards growth, leadership and innovation on behalf of 700 members.
The Business Excellence Awards recognizes and celebrates firms and individual who have distinguished themselves by fostering growth, innovation, community service and excellence in their sectors. The awards are selected by committee of peers and announced at a gala event held at the Cornwall Civic Complex.
2015 will be a significant year for the Chamber as the business association marks 125 years of continuous commitment to the community.
For more information, please click on the following links: