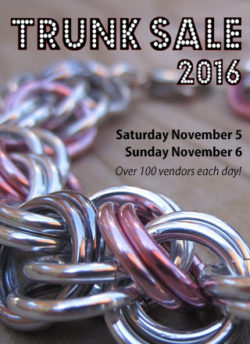 Trunk Sale Has Become A Fall Favourite
November 2, 2016
Cornwall Ontario – Imagine a year's worth of visiting artisan studios, eclectic shops and outdoor markets – all packed into one convienent weekend. Now picture an ideallic orchard setting on a hillside overlooking the St. Lawrence River, and you will have some idea of what to expect from the 7th Annual Trunk Sale.
The popular Trunk Sale returns this coming weekend, Saturday November 5th and Sunday November 6th, at Marlin Orchards, just east of Cornwall on Country Road 2.
There will be something for everyone, with original art and woodwork on display, as well as goods from local merchants and manufacturers. With over 100 vendors each day, organizers are confident that the event has a little something for everyone.
"It's a one stop shopping event, you can get all your Christmas shopping done under one roof," notes Debbie Burns.
The Trunk Sale is an opportunity to meet the artists and artisans who have made the products on display. It is also an opportunity to visit with your neighbours in an old fashioned market setting in the expansive greenhouses at Marlins.
"The extra day allows people the opportunity to visit on the day that is convenient to their schedules," added fellow organizer Julie Hickman. "Of course, with a different group of vendors on Saturday and Sunday, some people like to show up for both days!"
Local author Maggie Wheeler will be in attendance on Saturday from noon until 2pm signing copies of her books. Returning this year will be the local high school and the culinary arts programs on the Saturday. The students have been working with their teachers to prepare items which will be offered up for sample & sale.
"It gives the students an opportunity to showcase their talents to a very large audience at one time" says Ms. Hickman. "We are very proud to be featuring them as a part of our event along with many other young entrepreneurs, some Summer Company students, past & present."
On Sunday, local restaurateurs will be offering up tasty samples including Schnitzels, Sheep's Head Bistro, Esca & Shoeless Joe's.
Tickets
Tickets are $5 for the day or $8 for the weekend pass. You can pre-purchase your tickets at Cornwall Toyota, The Coffee Shop (inside the McConnell Medical Centre), Marlins, Pure Organic Spa, Life's Little Pleasures, O'Farrell Financial Services and Maison Eclectique in Lancaster.
Tickets are also available at the door.
A Tradition of Giving
Last year's event raised more than $24,000 for the local Chapter of the MS Society. This year's event will benefit Maison Baldwin House. Monies raised are kept in the community and help with client's needs.
"We are very pleased to be working with the ladies from Baldwin House,"says Ms. Burns. "It was always our original intention to change up the benefiting charity each year and after 5 years of supporting the MS Society,we felt it was time to return to the initial plan."
"We kept wanting to host additional events for other very worthy organizations but with our busy lives, it wasn't an easy task," added Ms. Hickman. "And so now we can."The ladies accepted applications from local groups this Spring. They in turn were presented before a panel of volunteers who screened the applications and narrowed it done to four. W3G & Co. met with the four finalists and Maison Baldwin House was the successful group.
"We encourage all groups to submit their application next Spring once we make the announcement," said Ms. Burns. "Like our page on Facebook for details on how to make that submission."
More Info
Categorised in: Business